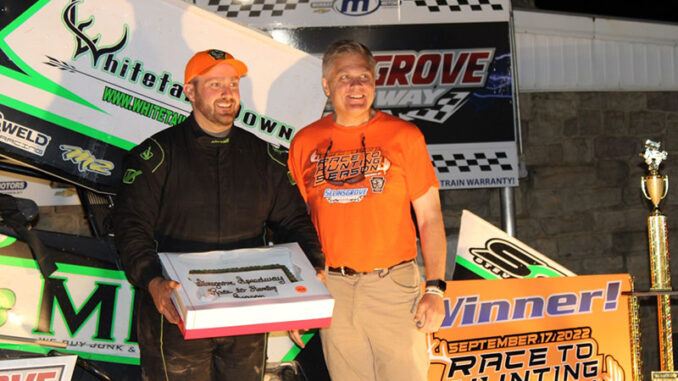 By Frank Buhrman 
SELINSGROVE, Pa. (Sept. 17, 2022) – Austin Reed captured his second major race of the Pennsylvania Sprint Series season Saturday, leading from start to finish to capture the Pennsylvania Game Commission-sponsored Race to Hunting Season at Selinsgrove Speedway.
The win came 2-1/2 months after Reed's victory in the Nittany 40 at Clinton County Speedway. Those have been the two highest-paying PASS events among the 33 run so far this year.
That race had featured a furious battle between Reed and Garrett Bard, but while Selinsgrove was hardly easy, nobody got alongside Reed to attempt a pass, and his final margin of victory over runner-up Josh Spicer of Julian was 1.615 seconds.
The moment of uncertainty for Reed's win came on lap 17, when Doug Dodson hit the wall in turn two, bringing out the race's only caution and erasing a huge lead.
But Reed got a good jump on the restart and the crowd's attention soon turned to a torrid battle for third place between Logan Spahr and Bard. For several laps they traded slide jobs and raced side-by-side before Bard edged into possession of the spot.
By that time, though, it was too late to catch Spicer in second, and Reed was cruising in the lead, heading for his fourth PASS win of the year. For Spicer, the second place was a career best.
The Game Commission sponsorship included more than doubling the standard PASS purse, with $900 going to the race winner, and $450 to the last-place starter. This keeps the faith with RaceSaver racing's commitment to equitable purse distribution among all racers. The race winner also received a custom Belair watch (with logos for the race, PASS and the speedway) valued at more than $400, donated by Foss Jewelers of Selinsgrove.
The PASS season will conclude Oct. 22 at Port Royal Speedway with the annual running of the Keystone RaceSaver Challenge, the Blue Collar Classic, another high-payout race and annually the biggest car turnout of the season.
Feature results – 1. Austin Reed; 2. Josh Spicer; 3. Garrett Bard; 4. Logan Spahr; 5. Christian Rumsey; 6. Ken Duke Jr.; 7. Zach Rhodes; 8. Jeff Weaver; 9. Erin Statler; 10. Scott Frack; 11. Kenny Heffner; 12. Dustin Young; 13. Jason Roush; 14 Logan Jones; 15. Jake Waters; 16. Seth Schnoke; 17. Paul Moyer; 18. Reed Thompson; 19. Ryan Lynn; 20. Fred Arnold; 21. Doug Dodson; 22. Owen Dimm; 23. Mariah Romig; 24. Ian Detweiler; 25. Kruz Kepner; 26. Timmy Bittner.