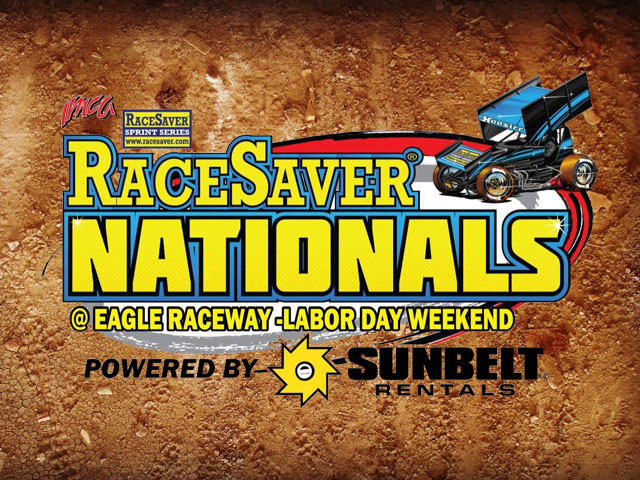 EAGLE, Neb. (July 21, 2022) – The big wings and big excitement of the 10th annual RaceSaver Nationals are at Eagle Raceway Sept. 1-4.
IMCA RaceSaver Sprint Cars race for $3,000 to win and a minimum of $1,500 to start the Sunday main event, with IMCA adding a $1,500 bonus to the winning driver provided they had made at least one 2022 sanctioned start coming into the weekend.
Friday, Sept. 2 and Saturday, Sept. 3 qualifying features both pay $700 to win while drivers who don't make the big show will see something extra in their pay envelope both nights.
"We realize that inflation and gas prices have been a challenge to the racing community this season," said Eagle promoter Roger Hadan. "Hopefully, we can help ease the pain of those costs to drivers traveling to our event by raising the non-qualifier purse money for both Friday and Saturday to $200 each of those nights."
The Sunday, Sept. 4 non-qualifier purse remains unchanged, noted Hadan, with the 'B' feature paying $1,000 to the first non-qualifier, $500 to the last place finisher and a minimum of $250 to all other drivers who don't qualify for the big show.
"We didn't raise Sunday's non-qualifier money because we have a lot of great sponsors who chip into the non-qualifier fund, which means all or most drivers who don't qualify for the main event get additional money and contingencies on top of that amount, anyway," he explained "This means anyone who at least starts a race each day at the RaceSaver Nationals earns a minimum of $650 for the weekend." 
Sunbelt Rentals returns as title sponsor of the Nationals. RaceSaver Enterprises pays $100 to each Friday and Saturday heat winner while Precise Racing Products sponsors Saturday's $1,000 to win, $200 to start race of champions.
RaceSaver Nationals will be broadcast by IMCA.TV. Entertainment in the pit area follows racing each night.
Pre-tech starts at 9 a.m. and practice is from 6-8:45 p.m. Thursday, with race of champions qualifying to follow. Racing starts at 6 p.m. Friday and Saturday, and at 6:30 p.m. Sunday.
Miss Eagle Raceway will be crowned at intermission and 27 cars start three-wide in Sunday's main event.
"Many race teams are concerned about tires," Hadan said. "Per Hoosier, we should have plenty of RaceSaver tires available at RaceSaver Nationals."
Sprint Car drivers can register online at www.racesaver.com under the RaceSaver Nationals tab for just $20 by Aug. 23; late entry after that date is $100.
IMCA Sunoco Stock Cars run on Friday, Friesen Performance IMCA Northern SportMods on Saturday and IMCA Sunoco Stock Cars on Sunday. There is no pre-registration and no entry fee for those divisions.
Discounted 4-day pit passes will be sold for $105 on Thursday. Pit passes are $35 each of the next three nights. Spectator admission is $18 on Friday, $20 on Saturday and $25 on Sunday. Kids 6-12 are $5 and five and under free each night.
Four-day spectator passes are $55 if purchased by Aug. 27 at www.racesaver.com. More information is also available by calling Eagle Raceway at 402 238-2595.