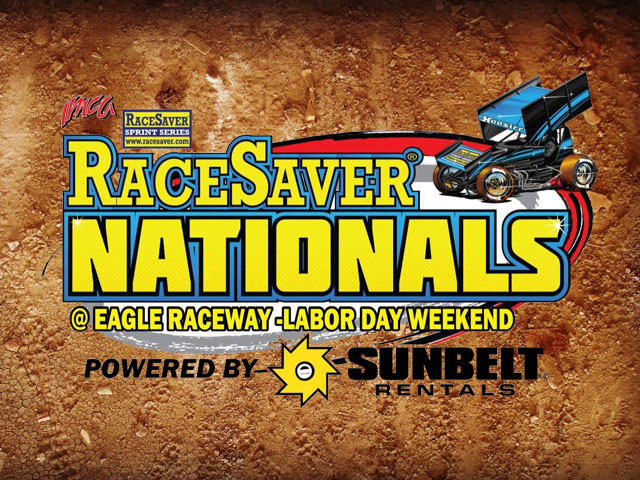 EAGLE, Neb. (Sept. 1, 2022) – An event that's guaranteed to be a "10" kicks off tonight at Eagle Raceway.
More than 100 IMCA Sprint Car drivers from 13 states and New Zealand are in town for the Thursday practice session and race of champions qualifying that set the stage for the 10th annual RaceSaver Nationals.
They'll race for $3,000 to win and a minimum of $1,500 to start the Sunday, Sept. 4 main event, with IMCA adding a $1,500 bonus to the winning driver provided they had made at least one 2022 sanctioned start coming into the weekend. Another $2,500 bonus will be paid to the highest finishing driver who has competed at each of the first nine RaceSaver Nationals.
Miss Eagle Raceway will be crowned during intermission on Sunday and 27 cars start the main event three-wide.
Friday, Sept. 2 and Saturday, Sept. 3 qualifying features both pay $700 to win. RaceSaver Enterprises pays $100 to heat winners both nights while Precise Racing Products sponsors Saturday's $1,000 to win, $200 to start race of champions.
Sunbelt Rentals returns as title sponsor of RaceSaver Nationals, which will be broadcast by IMCA.TV.
IMCA Sunoco Stock Cars run on Friday, Friesen Performance IMCA Northern SportMods on Saturday and IMCA Sunoco Stock Cars on Sunday this weekend at Eagle and entertainment in the pit area follows racing each night.
Racing starts at 6 p.m. Friday and Saturday, and at 6:30 p.m. on Sunday.
Drivers pre-registered for RaceSaver Nationals include:
Gene Ackland, Martell
Brandon Allen, Saint Peter, Minn.
Bruce Allen, Mankato, Minn.
Shayle Bade, Lincoln
Dusty Ballenger, Harrisburg, S.D.
Ethan Barrow, Bloomington, Ind.
Clint Benson, Papillion
Zach Blurton, Quinter, Kan.
Daren Bolac, Moyock, N.C.
Brandon Bosma, Rock Rapids, Iowa
Mike Boston, Lincoln
Chase Brewer, Waxahachie, Texas
Nick Bryan, Lincoln
Jake Bubak, Lincoln
Austin Burkham, Mansfield, Texas
John Carney, Amarillo, Texas
Dwight Carter, Lincoln
Toby Chapman, Panama
Justin Clark, Hamersville, Ohio
Taylor Courtney, Fort Worth, Texas
Luke Cranston, Holcomb, Kan.
Jason Danley, Lincoln
Joey Danley, Martell
Alex Davenport, Lincoln
Tyler Drueke, Eagle
Jacob Dye, Albany, Mo.
Claud Estes, Godley, Texas
Colby Estes, Mansfield, Texas
D.J. Estes, Fort Worth, Texas
Monty Ferriera, Lincoln
Mark Finnell, Osage Beach, Mo.
Jake Galusha, Lincoln
Bill Garrow, Lincoln
Chris Graf, Glencoe, Minn.
Chip Graham, Lewisville, Texas
Gary Gray, Kansas City, Mo.
Trevor Grossenbacher, Panama
Max Guilford, Auckland, New Zealand
Aaron Guillaume, Sioux City, Iowa
Adam Gullion, Lincoln
Jack Hall, Yukon, Okla.
Ryan Hall, Midlothian, Texas
Rick Hansen, Omaha
Jacob Harris, Vidor, Texas
Tyler Harris, Vidor, Texas
Rod Henning, Monrovia, Ind.
Robert Herrera, Las Cruces, N.M.
Philip Heynen, Visalia, Calif.
Brooklyn Holland, Kerman, Calif.
Brandon Horton, Waterloo
Mike Houseman, Des Moines, Iowa
Jeremy Huish, Ness City, Kan.
Steve Hurst, Ames
Andrew Jackson, Fremont
Junior Jenkins, Greenville, Texas
Ryan Kitchen, Seward
Bret Klabunde, Omaha
Derek Kral, York
Cody Ledger, Omaha
Doug Lovegrove, Lincoln
Justin Melton, Justin, Texas
Joe Miller, Vail, Iowa
Cory Minor, Haslet, Texas
Mike Moore, Des Moines, Iowa
Mitchell Moore, Peculiar, Mo.
Alex Nalon, Pittsboro, Ind.
Dennis Nalon, Pittsboro, Ind.
Ryan Navratil, Altoona, Iowa
Daniel Nekolite, Oneill
Heath Nestrick, Caddo Mills, Texas
Shane O'Banion, Danville, Ind.
Craig Oakes, Cuero, Texas
Michael Oliver, San Antonio, Texas
Michelle Parson, Abilene, Texas
John Paynter Jr., Bloomington, Ind.
Elizabeth Phillips, Bixby, Okla.
Gunnar Pike, South Bend
Shon Pointer, Grand Island
Kevin Ramey, Fort Worth, Texas
James Reed, Kearney
Jax Redline, Amarillo, Texas
Josh Riggins, Lincoln
Jay Russell, Wathena, Kan.
Alex Salzman, Lincoln
Jeremy Schlutz, Stewart, Minn.
Trevor Serbus, Olivia, Minn.
Andy Shouse, Oklahoma City, Okla.
Stu Snyder, Lincoln
Bradley Sterrett, Bloomington, Ind.
Michael Stien, Ceylon, Minn.
Andrew Sullivan, Spirit Lake, Iowa
Conner Thomas, Post, Texas
Landon Thompson, Haslet, Texas
Cole Vanderheiden, Papillion
John Webster, North Platte
Chase Weiler, Lincoln
Nathan Weiler, Omaha
Zackary Wight, Winnebago, Minn.
Chad Wilson, North Richland Hills, Texas