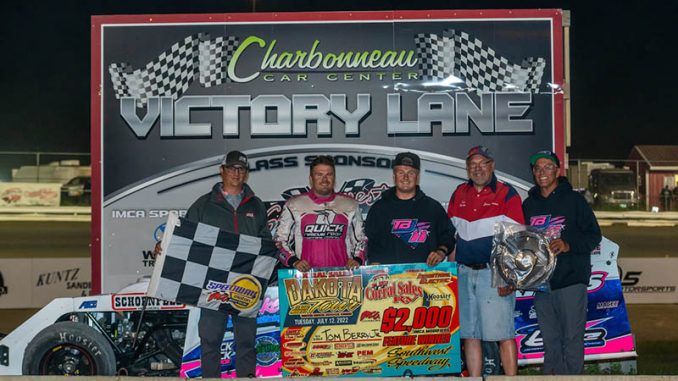 By Becca Pelkey
DICKINSON, N.D. (July 12, 2022) – Tom Berry Jr. will make his run at the Corral Sales IMCA Dakota Classic Tour record book Wednesday night in Mandan.
Berry won a fourth consecutive Friesen Performance IMCA Modified tour feature Tuesday at Southwest Speedway. Those checkers, good for $2,000, put him in position to match Steve Arpin's perfect 5-for-5 tour campaign in 2007.
Ricky Alvarado led the Modified field to green, but yellows came early and often and helped Berry move quickly through the field from his 10th starting spot.
While battling to stay in the top spot, Alvarado had a mechanical failure and handed the lead over to Berry. Although cautions continued to slow the pace, Berry pulled away on each restart to win in front of the 11th starting Dakota Sproul, former national champion Jason Wolla, Eddie Belec and Tanner Black.
Four different drivers, the most recent of them Ricky Thornton Jr. in both 2019 and 2020, had won three Modified features on tour since 2009.
While Berry continued his string of perfection, consistent Trent Grager raced to the top of the point standings with his tour career-first IMCA Sunoco Stock Car feature win.
Third, second and fourth in the first three tour outings, Grager led the distance of the 25-lapper from the outside pole and earned B & B Racing Chassis All-Star Invitational qualifying eligibility along with the $1,000 checkers.
"This was my first time here in an IMCA Stock Car," said Grager, last a visitor to Dickinson in a WISSOTA street stock some 10 years ago. "This track is its own animal. It definitely has its own characteristics. It feels pretty good to be able to come here and get the win."
Defending tour champion Zachary Madrid was second. Austin Brands, Austin Daae and Adam Goff were scored next.
"We're pretty happy with the way things have worked out for us," Grager said. "We've kept kind of a neutral setup. We haven't changed very much and the car has been pretty decent."
Ninety cars saw action at Dickinson.
IMCA.TV broadcasts both tonight's program and Thursday's tour finale at Dakota Speedway.
Feature Results
Modifieds – 1. Tom Berry Jr.; 2. Dakota Sproul; 3. Jason Wolla; 4. Eddie Belec; 5. Tanner Black; 6. Travis Hagen; 7. Isaac Sondrol; 8. Paul Stone; 9. Brady Bjella; 10. Jake McBirnie; 11. Jeff Taylor; 12. Ricky Alvarado; 13. Darrell Hughes II; 14. Kelsie Foley; 15. Lucas Lamberies; 16. Ethan Braaksma; 17. Michael Leach; 18. Justin O'Brien; 19. Travis Tooley; 20. Zach Frederick; 21. Bryson Yeager; 22. Randy Burwick; 23. Cody Peterson; 24. Hank Berry; 25. Matt Aukland; 26. Jeremy Thornton; 27. Jeremy Keller; 28. Tim Ward.
Stock Cars – 1. Trent Grager; 2. Zachary Madrid; 3. Austin Brands; 4. Austin Daae; 5. Adam Goff; 6. Rob VanMil; 7. Shelby Williams; 8. Troy Heupel; 9. Dalton Flory; 10. Dan MacKenthun; 11. Bubba Stafford Jr.; 12. Tyler Ashley; 13. Jason. Berg; 14. Chris McCurdy Jr.; 15. Kevin Roberts; 16. Travis Ulmer; 17. Scott Gartner; 18. Joe Flory; 19. Casey Binstock; 20. Daniel Eckblad; 21. Tim Pessek; 22. Angel Munoz; 23. Mike Hagen; 24. Matt Speckman.