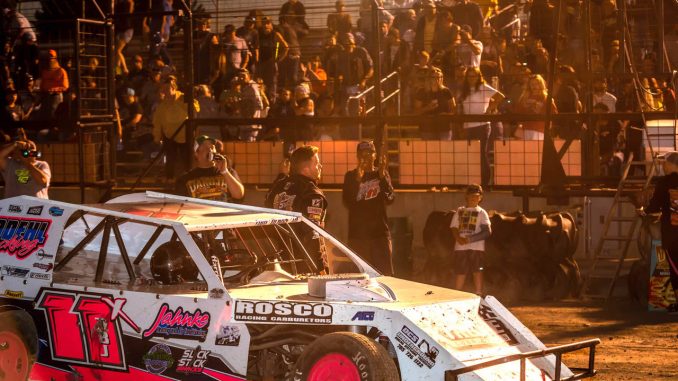 By Becca Pelkey
WILLISTON, N.D. (July 11, 2022) – Tom Berry Jr. went back-to-back-to-back and Matt Speckman went back to the winner's circle for the first time since 2019 when the Corral Sales IMCA Dakota Classic Tour traveled to Williston Basin Speedway on Monday night.
Berry raced to a third $2,000 Friesen Performance IMCA Modified feature win in as many tour starts. Speckman's $1,000 IMCA Sunoco Stock Car checkers were his career 89th in the division and earned him B & B Racing Chassis All-Star Invitational qualifying eligibility as well.
Entries again topped 90 with 13 states and Canada represented in the Modified main event.
Veterans Ed Turnbull and Hank Berry started on the front row in the Modified feature. Turnbull led from the initial green flag as Lucas Lambreries, Ricky Alvarado and Berry tussled three-wide close behind him.
Using the high line around the speedway, Berry grabbed the second position and quickly caught Turnbull. He took over the top spot on lap nine and pulled away from the field, dominating from that point to win ahead of Alvarado, Eddie Belec, Turnbull and Lamberies.
Hard charger Justin O'Brien raced from 25th starting to eighth.
2014 tour and three-time Williston track champion Dalton Flory grabbed the lead in the Stock Car feature and did his best to pull away, but as the laps wound down both Speckman and fellow Minnesotan Dan Mackenthun started to reel him in.
Flory struggled to negotiate the slower traffic, which allowed Speckman to pass him. However, Flory changed his line and retook the lead on the following lap.
Lapped traffic remained an issue for Flory and with two laps to go, Speckman flew by on the outside to the win.
"It felt pretty good. We were a little faster than Dalton and made it happen in lapped traffic," said Speckman, who began following the tour in 2013 and most recently won at Nodak Speedway three years ago. "We've been doing this tour so long that we know a lot of people and just enjoy coming here and hanging out with them. Racing is the bonus."
Flory, Mackenthun, Trent Grager and Randy Klein, winner of the first two tour events, completed the top five.
Round four takes the Dakota Classic Tour to Southwest Speedway in Dickinson Tuesday night with Dacotah Speedway at Mandan hosting July 13 and 14 programs. All tour events are broadcast by IMCA.TV.
Feature Results
Modifieds – 1. Tom Berry Jr.; 2. Ricky Alvarado; 3. Eddie Belec; 4. Ed Turnbull; 5. Lucas Lamberies; 6. Travis Hagen; 7. Tanner Black; 8. Justin O'Brien; 9. Michael Leach; 10. Matt Aukland; 11. Tim Ward; 12. Jake McBirnie; 13. Paul Stone; 14. Ethan Braaksma; 15. Jeremy Thornton; 16. Jeff Taylor; 17. Alan Bohlman; 18. Scott Gartner; 19. Jeremy Sorenson; 20. Brady Bjella; 21. Jason Wolla; 22. Brandon Clough; 23. Justin Medler; 24. Drew Christianson; 25. Logan Schmitz; 26. Hank Berry; 27. Jeremy Richey; 28. Wade Manning.
Stock Cars – 1. Matt Speckman; 2. Dalton Flory; 3. Dan Mackenthun; 4. Trent Grager; 5. Randy Klein; 6. Mike Hagen; 7. Shelby Williams; 8. Joe Flory; 9. Zachary Madrid; 10. Tim Pessek; 11. Jake Nelson; 12. Brendon LaBatte; 13. Troy Heupel; 14. Angel Munoz; 15. Adam Goff; 16. Austin Daae; 17. Jason Berg; 18. Justin Bachmeier; 19. Kevin Roberts; 20. Austin Brands; 21. Shawn Volk; 22. Jordan Zillmer; 23. Chris McCurdy Jr.; 24. Rob VanMil.