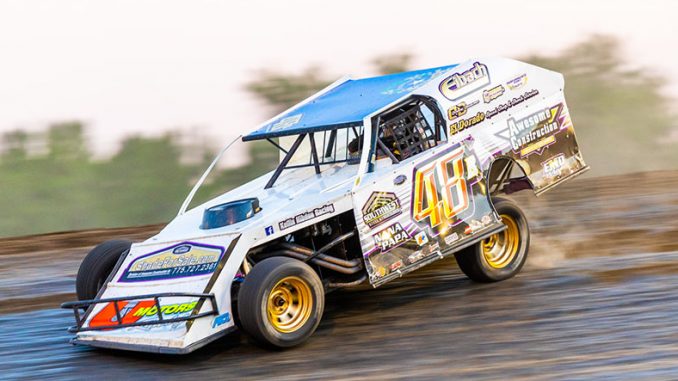 MINOT, N.D. (July 12) – What a difference a day makes.
After a Sunday DNQ at Nodak Speedway, Kollin Hibdon bounced back with a second IMCA Modified win on the third night of the Corral Sales Dakota Classic Tour, leading all 30 laps of Monday's main event at Minot.
"Sunday was more of a driver issue. I put myself behind and that was that," said the 17-year-old hotshoe from Nevada, who'd struggled in both his heat and 'B' feature after collecting his first $2,000 checkers of the tour Saturday at Jamestown. "We worked on the car all morning with the goal of making the feature and did pretty good."
After winning his heat, Hibdon started outside Kyle Brown on the front row, took the lead at the drop of the green and built an advantage of as much as six seconds before the only caution of the contest waved with three circuits left in the 30-lapper.
"Nobody showed me a nose or anything. I pretty much made sure I hit my marks the last three laps and held on for the win," Hibdon said after leading Brown and Jeff Taylor across the stripe. "It felt pretty good. After a bad night it always feels good to top it off with a win, especially in these tour deals. Hopefully we can get another one."
2006 tour champion Troy Cordes and Sunday winner Ethan Dotson completed the top five. Hibdon was already on the Fast Shafts All-Star Invitational ballot.
Dalton Flory improved one spot in the finishing order from Sunday to earn the $1,000 IMCA Sunoco Stock Car feature win. The 2014 tour and three-time Nodak track champion outran Mike Swallers and Sunday winner Zachary Madrid.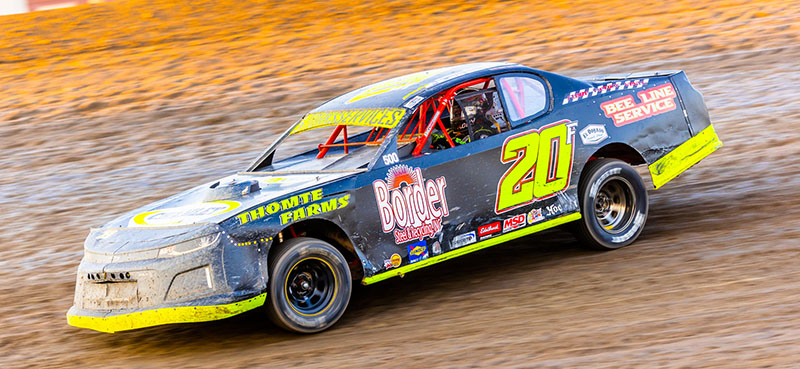 Former champion Dalton Flory led green to checkered in topped the Monday Corral Sales Dakota Classic Tour feature for IMCA Sunoco Stock Cars at Nodak Speedway. (Photo by Tyler Hagen)
"It was awesome. We've got a lot of laps around this place," Flory said following his tour career first win since the 2019 finale at Dacotah Speedway. "We drew good, we started up front and that made it a lot easier."
Adam Goff and Jace Iverson rounded out the top five in the 25-lapper. Flory became eligible to qualify for the B & B Chassis All-Star Invitational.
Feature Results
Modifieds – 1. Kollin Hibdon; 2. Kyle Brown; 3. Jeff Taylor; 4. Troy Cordes; 5. Ethan Dotson; 6. Collen Winebarger; 7. Tom Berry Jr.; 8. Travis Hagen; 9. Tim Ward; 10. Cody Laney; 11. Aaron Turnbull; 12. Dakota Sproul; 13. Ricky Alvarado; 14. Justin Bieber; 15. Tripp Gaylord; 16. Zachary Madrid; 17. Dominic Ursetta; 18. Jordan Sours; 19. Shawn Strand; 20. Eddie Belec; 21. Drew Christianson; 22. Jaxon Saathoff; 23. Kelsie Foley; 24. Justin O'Brien; 25. Wayne Johnson; 26. Tanner Black; 27. Bricen James; 28. Steven Pfeifer.
Stock Cars – 1. Dalton Flory; 2. Mike Swallers; 3. Zachary Madrid; 4. Adam Goff; 5. Jace Iverson; 6. Travis Ulmer; 7. Jason Kniffen; 8. Gabriel Deschamp; 9. Angel Munoz; 10. Payton Bellm; 11. Justin Thornton; 12. Hunter Cavanagh; 13. Billy Preston; 14. Mike Hagen; 15. Jake Nelson; 16. Brady Bjella; 17. Bob Fuegmann; 18. Rob Stenvold; 19. Tyler Ashley.