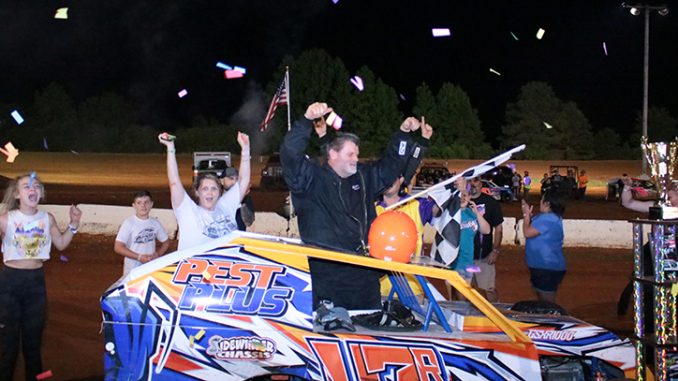 By Justin Newman 
MURFREESBORO, Ark. (May 29, 2022) – James 'Big Daddy' Rollins brought home the biggest payday of his career Sunday at the Diamond Park Speedway at the conclusion of the first annual IMCA STARS Mod Lite Mayhem.  
Following the parade laps and pageantry, the field quickly got underway and Rollins went to work in the $3,000 to win headliner. After a few cautions and restart attempts on lap six, the field got racing action going with green flag laps until a competition caution for fuel only on lap 15.
By that time, Codey Benoit, winner of the $1,000 'Prelude' at Centerville Super Speedway on Friday, had quietly and methodically made his way from his seventh starting spot to third. Up from his 14th starting spot, Darrick Hubbard Jr. sat in fifth.
Back underway there was some intense racing for the final 15 laps as they went caution-free. On the white flag lap, Benoit laid it all on the line and got a huge run on the inside down the front stretch and he and Rollins made heavy contact, but both drivers kept it straight and decided to duke it out one more time around the red clay speed plant.
Coming out of turn number four with a face full of checkers, Rollins pushed, allowing Benoit one last shot and the drag race to the line went to Rollins by a slim .071 of a second margin of victory over Benoit. Ohio's Chris Robinson came home in third followed by Hubbard.
"I want to thank Jay Neal with BSB Shocks for some last-minute setup advice and Shon with Sidewinder Chassis for giving me the equipment I need to compete at this level," Rollins said from victory lane. "I have to thank my wife Tara for pushing me every day to be better" and he finished with "This one's for KB" and he wouldn't have had it any other way.
The race hard charger went to Justin Hughes and the hard luck award went to Brandon Staggs.
Common theme of the event was family, as the whole weekend was filled with families camping at the track, kids having water balloon and water gun fights in the pit area and the absolute best of the Mod Lite community coming together for fellowship and family.
The star-studded field for the main event reflected that just the same. Rollins started from the pole while his 14-year-old son Grant rolled off from the 18th spot. Larry Hubbard Jr. got to race with his nephew Darrick Hubbard Jr., who started 14th following a second place finish in his 'B' feature.
Not lost on the hearts or minds of anyone in attendance was the absence of Caleb McCollett and his familiar blue and red number 94. Caleb was a son, brother, father, friend and prankster to anyone he met. Several members of the RCM Racing team paid tribute during driver introductions and his father Paul rolled off eighth with KB riding shotgun.
The elder McCollett had a piece of the last car his son owned on his number 94KB tribute entry.
Feature results – 1. James Rollins; 2. Codey Benoit; 3. Chris Robinson; 4. Darrick Hubbard Jr.; 5. Jace Reid; 6. Chad Kirkpatrick; 7. Gary DeWitt; 8. Larry Hubbard Jr.; 9. Titan Crump; 10. Steve Sweere; 11. Justin Hughes; 12. Grant Rollins; 13. Barry Nolan; 14. Paul Alban; 15. Cameron Beene; 16. Shane Jenkins; 17. Joe Butler Jr.; 18. Boogie Krajca; 19. Riley Clem; 20. Dylan Hollingshead; 21. Paul McCollett; 22. Andrew Lincoln.
Manufacturers' Dash – 1. Benoit; 2. Crump; 3. Darrick Hubbard Jr.; 4. Robinson; 5. Clem; 6. David Rodriguez; 7. Beene; 8. Carson Hubbard.
State's Race Dash for Cash – 1. Darrick Hubbard Jr.; 2. Benoit; 3. Clem; 4. Jenkins; 5. Lincoln; 6. Sweere; 7. DeWitt.
Dirty Draw Dash – 1. Rollins; 2. Kirkpatrick; 3. Robinson; 4. Larry Hubbard Jr.; 5. DeWitt; 6. Sweere; 7. McCollett; 8. Lincoln; 9. Alban; 10. Nolan.