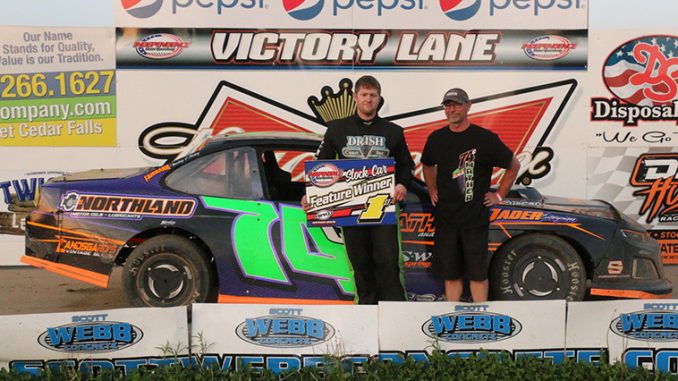 By Jeremy Fox
INDEPENDENCE, Iowa (May 28, 2022) – After losing last week's races to the victim of mother nature, it was back to action at the Independence Motor Speedway on Saturday Night for Weekly Points Night. It was Michael Pittman Memorial Night, a night to remember a competitor who lost his life in a work related accident in February. 
It was a picture perfect night to wrap up the month of May, that saw 106 race cars sign into tame the 3/8 mile bank race track on the Buchanan County Fairgrounds. They were going two, three and a few times four wide during the night. The final checkered flag was displayed at 9:47 p.m.
The first feature of the night was the 15-lap Friesen Performance IMCA Northern SportMod event. Nate Albrant got the jump on Vern Jackson and took the early lead. Albrant fended off Jackson but then Tony Olson entered the mix on lap three.
Olson took the lead away on lap five just before the caution came out. Olson got a great restart and pulled away to go on to take his second win of the season in Indee. Albrant finished second, eighth place starter Brady Hilmer finished third, Brandon Tharp was fourth and Cole Suckow was fifth. 
Jason Doyle started fourth but by the end of lap one in the 15-lap IMCA Sunoco Stock Car feature was in the top spot. Hannah Chesmore and Tom Schmitt raced side-by-side for second until Schmitt appeared to be having mechanical issues. The caution came out on lap six when Schmitt broke going down the front stretch and came to a stop in turn one.
Doyle had to contend with Kaden Reynolds and Cole Mather on the restart and held them off until Mather got by both on lap 11. Mather went on to take his third win of the season in Indee, his career 30th weekly win now at the 3/8-mile. Reynolds finished runner-up, Leah Wroten got her best finish at Indee in third. Doyle fell back to fourth and Jarod Weepie took fifth.
Mike Burbridge jumped out to the early lead in the Friesen Performance IMCA Modified 20-lap feature after outdueling fellow front row starter Dennis Betzer. Burbridge was then followed by Jerry King as Betzer fell back to third.
Burbridge continued to lead mean while 10th place starter Troy Cordes worked his way into second on lap 10. The caution came out on lap 11. Cordes got by Burbridge on lap 16 but had to work for it as Burbridge refused to give it up easy and Cody Laney made it a three car race.
For Cordes, that is win number two at Indee this season and his 51st weekly win all-time. Burbridge, Laney, King and Brennen Chipp rounded out the top five.
The IMCA Sunoco Late Model 20-lap feature saw Scott Welsh lead the first lap before Brandon Davis took the top spot away on lap two. Davis continued to lead, fending off Dalton Simonsen and Sean Johnson until the caution came out on lap seven.
On the restart, Simonsen spun in turn one to avoid contact with Johnson. Johnson got a great restart and took the top spot away from Davis and never looked back. Johnson took the win ahead Davis, Greg Kastli, Simonsen and Illinois driver Dustin Schram.
The final feature of the night was the IMCA Sunoco Hobby Stock 15 lapper. Ryan Havel grabbed the early lead and looked strong through two early restarts.
Havel was not to be denied as he went on to claim the win. Daniel Wauters worked his way from 10th to second. Ninth place starter Brett Vanous was third, Adam Streeter was fourth and Justin Hanson fifth.
All IMCA divisions are on the June 4 card at Indee. The following Saturday, June 11 is Crawford Farms Hall of Fame Night. The 2022 class of Inductees are drivers Rick Wendling, Darin Burco and Duane Van Deest. Special contributors are Burco and former promoter Jerry Blue. Burco will be the first to be inductee as a driver and contributor.