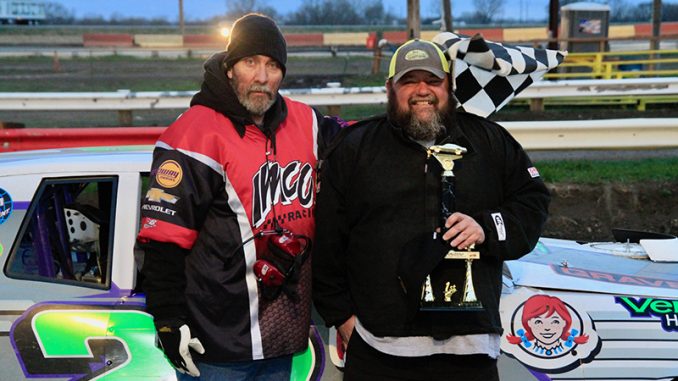 SIOUX CITY, Iowa (April 27, 2022) – Sid Mosher's 16-year absence from victory lane ended on opening night at The New Raceway Park.
Mosher battled Travis Barker early and then outdueled Jason Ward following a late restart to win the April 24 IMCA Sunoco Stock Car feature. The checkers were his first since Mosher's five-win campaign in 2006.
"When I took a break after that, it was always with the idea I would get back into racing. I never lost the passion for it," explained the Sioux City, Iowa, driver. "We were pretty strong back in the day and I wanted to see if I could still be competitive. I had to prove to myself that I could still run with these young guys."
Mosher ran chargers, street stocks and then a grand national at Park Jefferson Speedway before the South Dakota speedplant switched to the IMCA sanction. He found success at PJ during that initial sanctioned run, then put racing on the backburner to focus on family and his business until the Covid-postponed 2020 season.
"We had pulled out videos of some of my old races and I watched the April shows broadcast from Park Jefferson Speedway and The New Raceway Park. That got me fueled up again," explained Mosher. "We went to a sprint car race at Park Jefferson and my kids got me talked into getting back into racing."
"It fueled that fire that never left. I'm in my late 40s and decided it was time, let's do it."
Mosher got back on track that June in a 2016 Wolfe Chassis.
"The cars are a lot different now, in the way they're built and how they're set up. Plus, I forgot a lot," he said. "The first year was learning how to get around the track and not hurt anyone."
The Wolfe Chassis was totaled in a crash at PJ the following spring. It took Mosher a month to get a 2020 Medieval race-ready and resume the learning process.
"I started all over in a completely new animal. There was quite a learning curve but the car came to life at the end of the year and we ran third at the South Dakota Nationals despite restarting at the back twice," he said. "We did a bunch of research in the off-season. The Bob Harris Race Tech Info class taught me a ton and we did our best to get our act together for this season."
Mosher ran second in his heat, then started 10th and finished seventh in the opening night feature at Park Jefferson. His wife Alisha watched from the stands while sons Cody, Dayton, Easten and Kamden, and brother Matt cheered him on to the Sunday win from the pits.
"Before when I raced it was to have fun and drink a few beers afterwards with my friends. My racing now is with my family," said Mosher, who heeded advice from youngest sons Kamden and Easten not to overdrive. "My kids got to watch me win and to see their smiles made it all worth it. That was the most fun I've ever had."