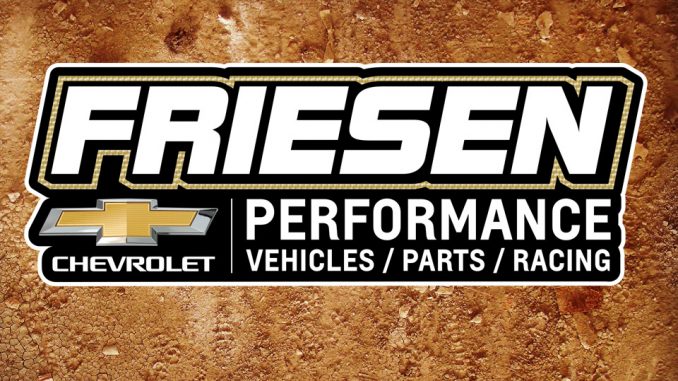 SUTTON, Neb. (April 13, 2022) – Drivers in the two biggest IMCA divisions enjoy new title support from Friesen Performance beginning this season.
The Sutton, Neb., race shop becomes title sponsor of IMCA Modified and IMCA Northern SportMod divisions, providing a portion of national point funds to be paid in both through 2024.
Friesen Performance IMCA Modifieds race weekly in a record 27 states and Canada this year, Friesen Performance IMCA Northern SportMods in a record 19 states and Canada.
"This is a win-win program. Many drivers who are already our customers will be racing for point shares in these two divisions," said Friesen Performance Sales Manager Al Walters. "This program kind of evolved as we talked with Carson (Becker-Gramm, marketing integration and sponsorship director for IMCA)."
"These are the divisions we sell the majority of engines to," he noted.
Friesen sells and ships GM 604 and 602 crate engines to IMCA customers across the country and is also an author­ized crate engine repair facility.
"We have plenty of crate engines available," said Walters, adding that Friesen Performance would be ramping up social media efforts to combat rumors to the contrary. "We sell all the products that hang on an engine. These are all quality products. We look at performance and we look at quality, so there are a lot of components we haven't needed to change for years."
"When you go to the track you should be racing, not wrenching," Walters emphasized. "All our vendors have the same philosophy we do. Performance and quality come first."
National point fund checks in both Friesen Performance IMCA Modified and Northern SportMod divisions will be presented during the IMCA banquet in Lincoln in November. Decals can be downloaded from the IMCA website, from the forms menu.
Information about GM crate engines and Chevrolet Performance parts in stock at Friesen Performance is available by calling 402 630-4894 and on the Friesen Performance Facebook page.
The new title sponsorship program takes Friesen through its 12th year of IMCA sponsorship.
"I am proud to be part of the new partnership with Friesen Performance that now encompasses a greater presence in the Friesen Performance IMCA Modifieds and IMCA Northern SportMods," said Becker-Gramm. "Their long-time support of the drivers in these divisions makes for a natural fit in their new program with IMCA."