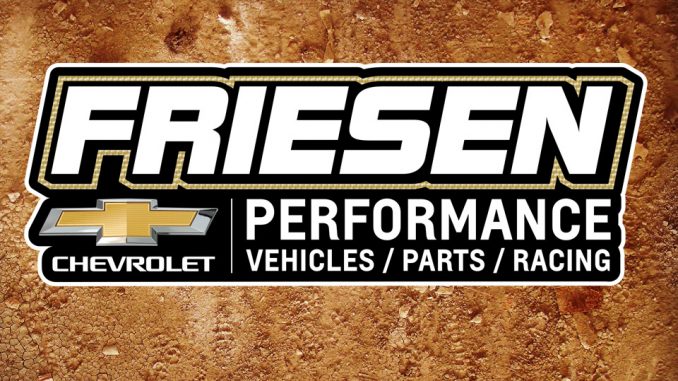 SUTTON, Neb. – Drivers in three IMCA divisions winning national rookie of the year honors are the big winners in the awards program renewed by Friesen Performance. 
The Sutton, Neb., dealership gives a 604 crate engine to the na­tional Modified rookie of the year and 602 crate engines to both national Hobby Stock and Northern SportMod rookies of the year for the eighth consecutive season.
Rookie competitors in each of those divisions must display two Friesen Performance logos on their race car to be eligible. Engine awards will be presented during the IMCA national banquet this fall.
Crate engine award winners in 2020 were Dakota Sproul, Modified; Kyler Duggins, Hobby Stock; and Clay Erickson, Northern SportMod.
Friesen sells and ships GM crate engines to IMCA customers across the country and is an author­ized crate engine repair facility for IMCA.
Along with selling and servicing new and pre-owned vehicles, Friesen has one of the largest parts departments in the country and specializes in power train, discontinued parts and all Chevrolet Performance parts.
More information is available by calling 402 630-4894 and on Facebook.
"We were unable to personally recognize our Friesen crate engine winners in 2020 with the cancellation of our national banquet, but we fully anticipate to resume that tradition in 2021," IMCA Marketing Director Kevin Yoder emphasized. "Through the support of Friesen Performance, we have awarded a lot of engines to a lot of deserving drivers."