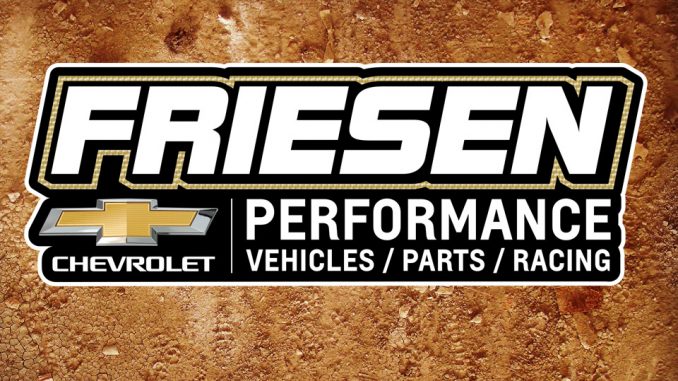 SUTTON, Neb. (Feb. 17, 2023) – Al Walters knows the importance of getting and keeping your name in front of the racing community.
Friesen Performance will do that again in 2023, returns for its second season as title sponsor of both IMCA Modified and IMCA Northern SportMod divisions.
"I was taught eons ago that you have to keep your name in front of people, deliver a good product and take care of your customers," said Walters, sales manager at the Sutton, Neb., race shop, which sells and ships GM 604 and 602 crate engines to IMCA customers across the country and is also an author­ized crate engine repair facility. "The Modifieds and Northern SportMods are two of IMCA's biggest divisions and many of those drivers are our friends and customers."
Friesen's provides a portion of national point funds to be paid in each division. Friesen Performance IMCA Modifieds will race weekly in 27 states and Canada again this year, Friesen Performance IMCA Northern SportMods in 19 states and Canada.
"It's been amazing how things have changed. IMCA added the crate engine option in 2013 and Dylan Smith won the Modified main event at Super Nationals with a crate engine that September. It's been a blur since then," Walters said. "We've expanded the race shop and dyno service, managed by Chad Smith. We used to sell just the engine. Now we sell the engine and all the products that hang on them."
The title sponsorship agreement runs through 2024, Friesen's 12th sponsorship season.
"This sponsorship has been very good to us," noted Walters. "We have also done very well with the cars we have direct sponsorship with. It's impressive when you start adding up the number of championships drivers like Dylan Smith, Jordan Grabouski and Chris Abelson have won, and Shannon Anderson got us connected with Dallon Murty and his Modified program."
"We've had guys flying our flag winning IMCA national championships and Super National championships."
Information about GM crate engines and Chevrolet Performance parts in stock at Friesen Performance is available by calling 402 630-4894 and on the Friesen Performance Facebook page.
"The Friesen Performance sponsorship for our Modifieds and Northern SportMods has been ideal for drivers in both divisions," said IMCA Marketing Integration and Sponsorship Director Carson Becker-Gramm. "They are truly a one-stop shop for IMCA crate engine competitors."