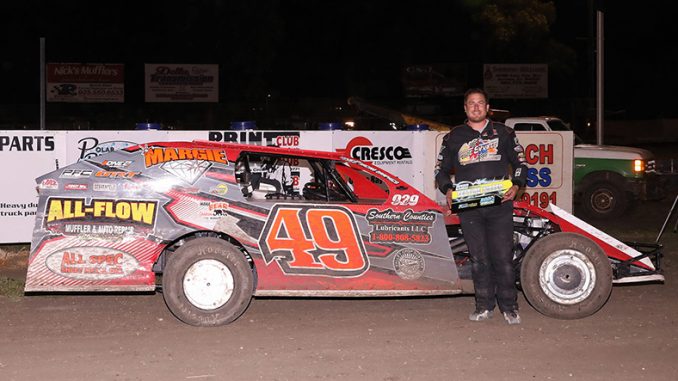 By Don Martin II 
ANTIOCH, Calif. (April 2, 2022) – Troy Foulger won the 20-lap IMCA Modified main event Saturday at Antioch Speedway. Most recently the track champion in 2020, he becomes the third different winner of the season at Antioch as he piloted the Bowers Motorsports Modified to the win. 
Trevor Clymens led a pair of laps with the yellow flag waving twice. Clymens led Foulger on the lap three restart but a low pass in turn two a lap later gained Foulger the lead.
Kellen Chadwick went low in on lap five to take second with Nick DeCarlo quickly striking to third. Foulger had a straightaway advantage by lap 10 as DeCarlo battled Chadwick to take second. DeCarlo finally grabbed the spot on a lap 14 restart.
Foulger was never really threatened as he won with DeCarlo holding off Chadwick for second. Buddy Kniss and Clymens completed the top five.
Kc Keller won the 20-lap IMCA Northern SportMod main.
The race was restarted after a tangle that involved Fred Ryland. Tommy Fraser took the early lead ahead of Dylan Connelly. Keller went low to take second on the fourth lap and made an inside pass three laps later to take the lead from Fraser.
Andrew Pearce moved into second on lap nine before a yellow flag flew for Connolly. Keller led the restart with Jacob Mallet Jr. moving past Pearce and into second. Mallet made a backstretch pass on Keller on lap 11 for the lead.
Pearce and Keller ran closely behind Mallet in the battle for second. A low pass on lap 19 put Keller into the lead with Pearce following into second. Keller went on to the impressive win with Pearce and Mallet running nose to tail behind him. Jeremy Hoff and Fraser completed the top five.