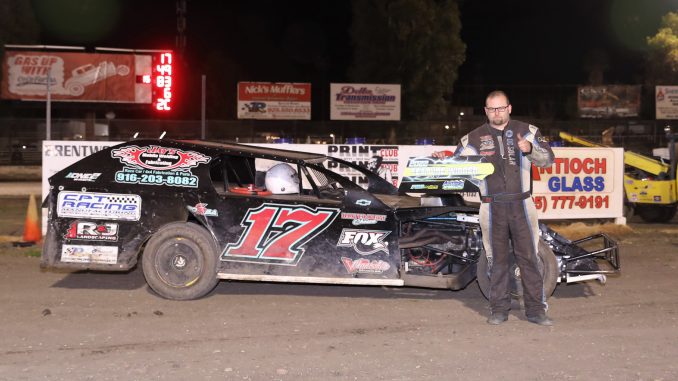 By Don Martin II
ANTIOCH, Calif. (March 12, 2022) – Nick DeCarlo scored the win in the 25-lap IMCA Modified main event Saturday at Antioch Speedway. This was the first race of the 62nd championship season at the track, and it was DeCarlo's first win in two years.
Kellen Chadwick jumped into the lead at the start with DeCarlo not far behind in second. The leaders caught heavy traffic on lap 15 and DeCarlo made an inside pass on the backstretch on lap 16 to grab the lead.
Bobby Hogge IV made a high pass in turn two on Lap 17 to take the lead from DeCarlo, but DeCarlo came back strong with an outside pass in turn four to regain command. During the final circuits, Hogge kept it close but DeCarlo prevailed for the well-earned victory. Five-time champion Troy Foulger ended up third ahead of Chadwick and Pettit
Reigning champion Fred Ryland won the IMCA Northern SportMod feature. He had picked up a win at Watsonville a night earlier to make it a double win weekend in the class. Ryland wasn't done as he came back out and turned in a dominating performance in winning the 20-lap IMCA Sunoco Stock Car feature.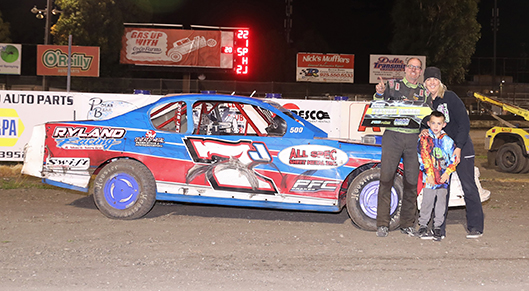 Fred Ryland doubled up on his wins for the night Saturday at Antioch Speedway, grabbing the glory in both IMCA Northern SportMod and IMCA Sunoco Stock Car features. (Photo by Katrina Kniss)