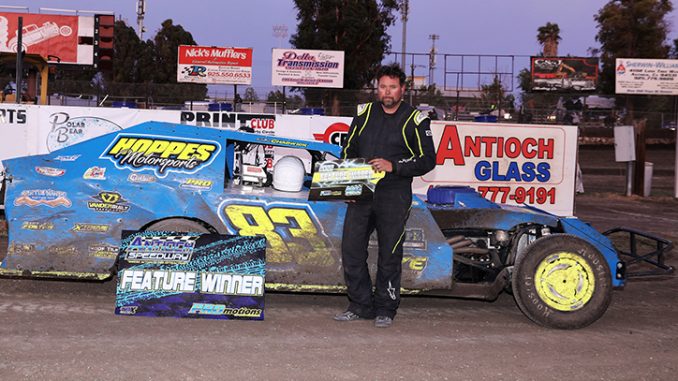 By Don Martin II
ANTIOCH, Calif. (May 7, 2022) – Kellen Chadwick won the 20-lap Friesen Performance IMCA Modified main event Saturday at Antioch Speedway. This was the second win of the season for Chadwick. 
Sean Wilson led the opening lap ahead of Bobby Motts Jr. before the yellow flag waved. On the restart, Terry DeCarlo Jr. made an impressive maneuver on the outside to gain the lead with brother Nick DeCarlo following him into second.
DeCarlo Jr. led his younger brother on a lap three restart with Chadwick settling into third. Following the next yellow, DeCarlo Jr continued to lead with Chadwick moving into second on the lap six restart.
Chadwick ultimately made an inside move on the backstretch on lap 17 to take over. Motts started pressuring DeCarlo a little bit for the second position as Chadwick pulled away. A yellow flag on lap 19 bunched the field and set up a late shootout but Chadwick prevailed ahead of DeCarlo Jr. and Motts.
Tommy Fraser won his second straight Friesen Performance IMCA Northern Sport Modified feature, benefitting from traffic in making his winning pass.
Dylan Connelly jumped into the early lead ahead of Jake Bentancourt. Fraser went low on lap three to take second and after a lap six yellow, Connelly continued to lead through a lengthy green flag run.
The leaders caught traffic around lap 13. One little mistake on lap 16 allowed Fraser to make a move on the inside down the front straightaway as they worked through traffic. A lap later, the yellow flag waved once again. Without the traffic to deal with, Fraser maintained his lead on the restart and brought it home to victory.
Jason Robles kept his early season IMCA Sunoco Stock Car championship hopes strong with his second main event win.
Andrew Pearce jumped into the lead from the start ahead of Robles and Kellen Chadwick. Travis Dutra went low on lap six to gain third, but he was a bit behind the lead duo by then. As Dutra began to close in on Robles, Pearce ducked into the infield with problems on lap 16. Robles had his hands full over the five final five circuits in his quest for victory, but he held off Dutra to the checkered flag.