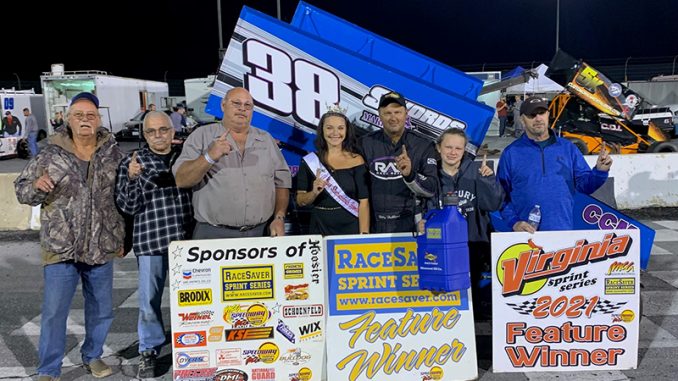 By Jim Haines 
SHENANDOAH, Va. (Sept. 25) – Billy Hubbard raced to the front like a cat with its tail on fire, then paced his right rear tire which he had smoking hard to the finish for his third Virginia Sprint Series feature win of the year Saturday at Shenandoah Speedway.
Matt Mullins and Chris Ware were on the front row as the IMCA RaceSaver Sprint Car event went green with Mullins out first and Ware moving to the bottom.
Jerald Harris was making a quick trip up high to the front right away and by lap two he was on Mullins and going by for the lead.
With Harris out front and looking strong, Mike Leraas made it to second and was chipping away at the lead with Hubbard working through the field to third. As the halfway flags were shown, Leraas shot to the lead with Harris holding off Hubbard.
Hubbard got by Harris and took after Leraas as Harris was having a tire go down causing him to slow.
Hubbard was really leaning on his car hard to get the lead and it paid off but at a price as he was streaking away his tire was feeling it. With a few laps to go, Leraas was closing back in but he was able to hold on by a few car lengths as the checkered flag waved at the mountain speedway.
At the line it was Hubbard getting the win ahead of Leraas and Harris.