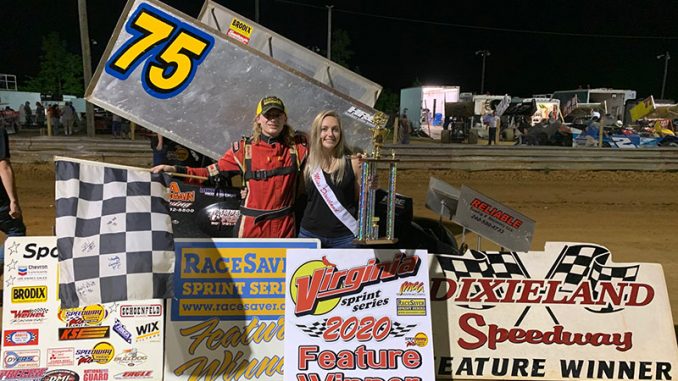 By Jim Haines 
ELIZABETH CITY, N.C. (June 5) – Dylan Shatzer's first trip to the tidewater area ended up being smooth sailing but much faster all the way to the Friday night Virginia Sprint Series win at Dixie­land Speedway.
The IMCA RaceSaver Sprint Car season-opening feature was lined up with Jake McLain and Shatzer on the front row. With the green flag waving Shatzer was out first with McLain and Bron­zie Lawson fighting for second right away.
The track was fast with Shatzer showing smooth was the way to go as he kept pulling away lap after lap with Lawson getting to second and setting his sights on the front. Tom Humphries made his way to third by lap 15.
After a quick yellow to push a stalled car from the track, Shatzer took off and the laps ran out, leaving Lawson in second and Humphries third.
The next Virginia Sprint Series race will be June 13 at Natural Bridge in Virginia or June 20 at Hagerstown Speedway.
Feature results – 1. Dylan Shatzer; 2. Bronzie Lawson; 3. Tom Humphries; 4. Mike Leraas; 5. Mike Keeton; 6. Jake McLain; 7. Chris Ware; 8. Matt Mullins; 9. Bill Rice; 10. Daren Bolac.