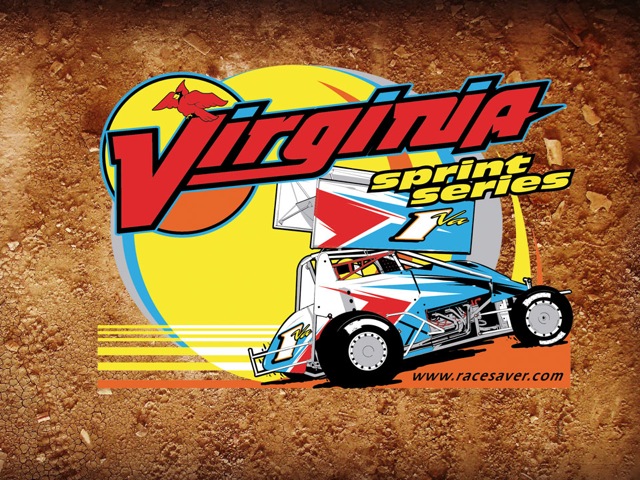 By Jim Haines
NATURAL BRIDGE, Va. (Sept. 19) – On the first clear, cool night of the year, Jerald Harris had a hot night on track by topping both features for the Virginia Sprint Series at Natural Bridge Speed­way.
The make-up event for the IMCA RaceSaver Sprint Car feature rained out in August had Daren Bolac out first at the drop of the green and running smooth out front with Mike Leraas in tow.
The 20-lap feature was going by fast as the track surface was changing and Leraas was closing in with Mike Keeton and Harris catching up fast as well.
Leraas got by for the lead with the back of the field quickly coming into his path. With the white flag out, Leraas and Bolac were still up front on the lower side but Harris moved up and was gain­ing ground fast.
Coming off turn four to the checkers, the last car on the lead lap bobbled, causing Leraas and Bolac to lift. Harris seized the moment to go high next to the wall, into the lead and under the check­ered flag first, all in a few hundred feet.
The second feature rolled to green with Matt Mullins out first and Mike Keeton right behind and Harris closing in already.
Keeton was leading but Harris was right there as the laps clicked away. Harris moved to the front spot, leaving Keeton to deal with a charging Leraas after he got by Bill Rice.
With laps running out, nobody could catch Harris. Leraas made it to second ahead of Keeton.
Feature Results
Make-up feature – 1. Jerald Harris; 2. Mike Leraas; 3. Daren Bolac; 4. Mike Keeton; 5. Bill Rice; 6. Chris Ware; 7. Matt Mullins; 8. Billy Hubbard; 9. Charlie Ware; 10. Mike Cicchillo.
Scheduled feature – 1. Harris; 2. Leraas, 3. Keeton; 4. Rice; 5. Bolac, 6. Mullins; 7. Chris Ware; 8. Charlie Ware; 9. Hubbard; 10. Cicchillo.