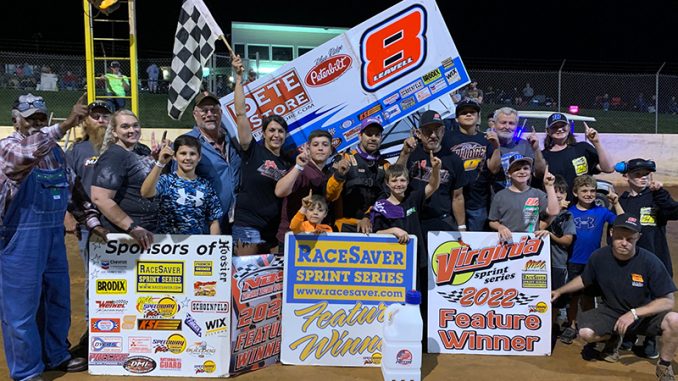 By Jim Haines 
NATURAL BRIDGE, Va. (May 28, 2022) – The second trip for the Virginia Sprint Series to Natural Bridge Speedway on a perfect day had a first-time winner as local favorite Joe Leavell was first to the checkers.
Bill Rice and Caleb Harris paced the IMCA RaceSaver Sprint Car feature with Rice like a bullet out first leading but soon to be joined up front by Jerald Harris and Leavell not letting.
Harris and Leavell were closing in, leaving Rice no room for error as the three were all under a blanket with Leavell low and Harris up high.
With the end coming quick Leavell made his move low on Rice while Harris made a move high, slipped and brushed the wall.
Leavell came out with the lead but Harris regrouped and challenged for the front spot.
Harris edged closer with traffic everywhere as the lead group made its way through but ran out of time to catch up and deny Leavell the career-first win. Rice took third.
The series takes a few weeks off before heading back to Hagerstown Speedway in Maryland on Saturday, June 18 for the Fathers' Day Weekend Sprint Car Spectacular co-sanctioned by the Virginia Sprint Series, Laurel Highlands Sprint Series and Pennsylvania Sprint Series.