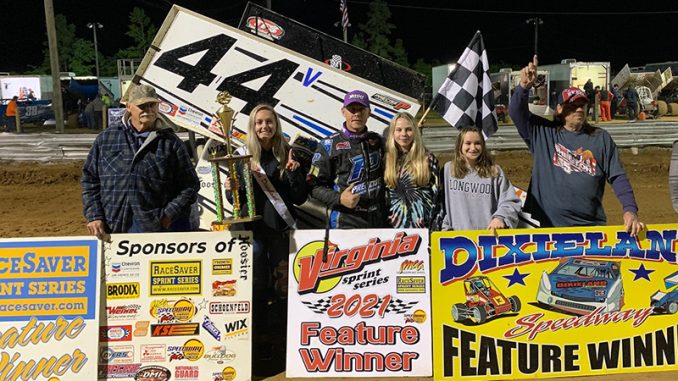 By Jim Haines
ELIZABETH CITY, N.C. (May 14) – The first visit to his home turf at Dixieland Speedway this season had local fans happy as Daren Bolac swept the evening, winning his heat and leading ever lap of the Virginia Sprint Series feature Friday night.
Chris Ware and Bolac paced the IMCA RaceSaver Sprint Car field to green with Bolac out first with Mike Leraas and Ben McCall giving chase as the high line showed to be the fastest. Soon after, Dylan Shatzer, Billy Hubbard and C.J. Faison were after McCall for third. 
Bolac and Leraas inched away from the field as the third place battle raged lap after lap on the tricky, fast oval.
McCall tried to close on Leraas but slipped up, spun and had to rejoin the back of the field, leaving Shatzer, Faison and Hubbard to continue to race for third.
Bolac and Leraas stayed smooth to keep their space but Shatzer had to really rim ride to keep his advantage as he tried everything to close in but the laps ran out. At the finish it was Bolac, Leraas and Shatzer running 1-2-3.
Next up for the Virginia Sprint Series is the Saturday, May 22 show at Hagerstown, Md., Speedway in a co-sanctioned event with the Laurel Highlands Sprint Series.