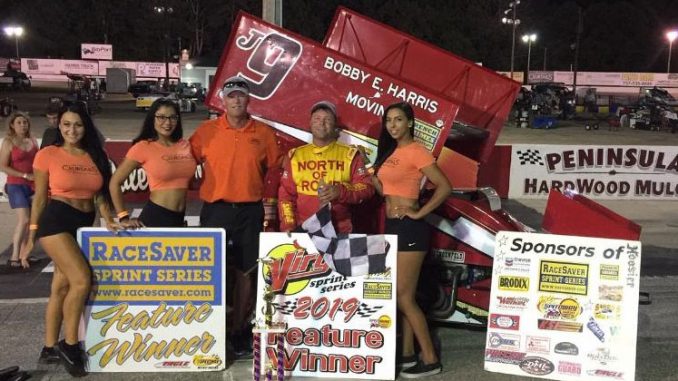 By Jim Haines 
HAMPTON, Va. (July 6) – The Virginia Sprint Series' annual visit to Langley Speedway for the Independence Day Weekend saw Jerald Harris go off like a rocket in the feature for his first win at the tidewater area venue.
Matt Mullins and Bill Rice paced the IMCA RaceSaver Sprint Car field to green in the Saturday show with Rice out first, Harris right on him and Mike Leraas in tow.
On lap three, Harris showed changes made after the heat were the right ones as he went to the front and took off, leaving Rice to deal with Leraas for second.
On the pavement the laps shoot by quickly and once Harris caught traffic, he used his patience to weave his way through and added to his lead.
Rice and Leraas got caught behind a battle for positions when they got to the traffic and had to settle for racing for second as Harris was gone. Rice ended in the runner-up spot with Leraas third.
Next it's back to the dirt on Saturday, July 13 at Natural Bridge Speedway.
Feature results – 1. Jerald Harris; 2. Bill Rice; 3. Mike Leraas; 4. Matt Mullins; 5. Charlie Ware; 6. Chris Ware; 7. Erin Statler; 8. Daren Bolac; 9. Jack Rice; 10. Mike Keeton.