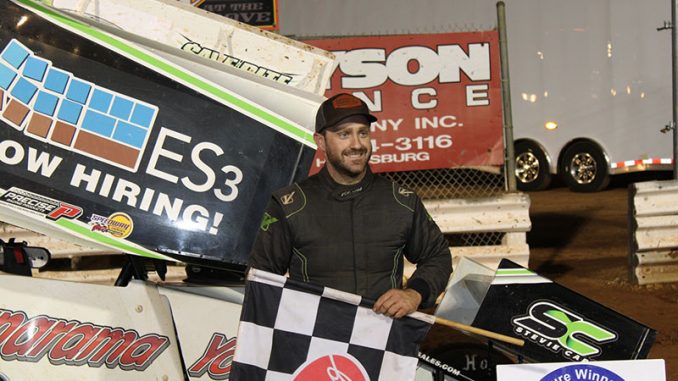 By Frank Buhrman
MECHANICSBURG, Pa. (Sept. 18) – On a bad night for a number of other drivers, Austin Reed tamed a difficult Williams Grove Speedway track surface and collected his first win with Pennsylvania Sprint Series in Friday's Jack Gunn Memorial program.
Reed returned to racing with the IMCA RaceSaver Sprint Cars late last season and has been competitive this season. He drew the pole for Friday's 20-lap feature following a fourth place heat finish, and after two disastrous attempts to start the race, took the early lead on the third effort and held off a determined Devin Adams to lead all the way for the victory.
Adams made several attempts to take the lead and drew even with Reed coming out of turn two on lap 16, but Reed pulled away on the backstretch and held on for the win.
Passing was at a premium on a heavy and narrow track but the RaceSaver drivers managed an impressive amount of it in their feature. Unfortunately, it also caused an inordinate amount of carnage to equipment.
Jeff Geiges followed Reed and Adams across the line to finish third. Dave Grube II, the only previous Williams Grove PASS winner in the field, shook off a subpar performance in qualifying and advanced 15 positions to finish fourth while Brandon McLain, who towed all the way from Hemby Bridge, N.C., came home in fifth.
Feature results – 1. Austin Reed; 2. Devin Adams; 3. Jeff Geiges; 4. Dave Grube II; 5. Brandon McLain; 6. Buddy Schweibiz; 7. Erin Statler; 8. Mikell McGee; 9. Tyler Snook; 10. Logan Spahr; 11. Austin Graby; 12. Will Brunson; 13. Dustin Young; 14 Stevie Kenawell; 15. Rowdy Heffner; 16. Doug Dodson; 17. Ron Aurand; 18. Ken Duke; 19. Kenny Heffner; 20. Scott Frack; 21. Garrett Bard; 22. Kassidy Kreitz; 23. Justin Mills; 24. Dom Melair.