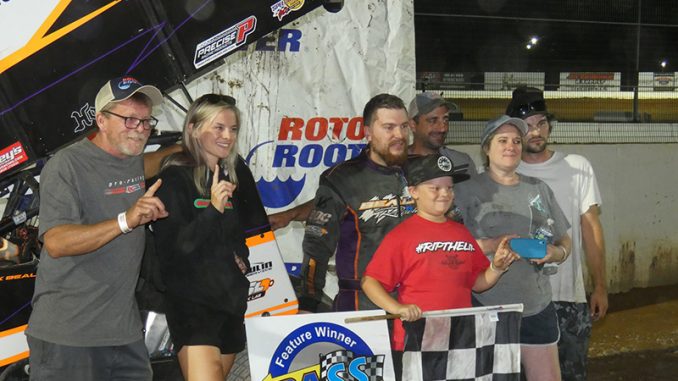 By Frank Buhrman 
BLOOMSBURG, Pa. (July 25) – Rookie Zack Bealer found a way around Bloomsburg Fair Raceway that nobody else could match and scored his first win in a full-sized sprint car in Sunday's IMCA RaceSaver Sprint Car feature co-sanctioned by the Pennsylvania Sprint Series and the Mid-Atlantic Sprint Series.
The former micro-sprint driver, running regularly with MASS, already had amassed two top-five finishes and four top-10's in just six starts, including a seventh at Bridgeport Speedway in his first RaceSaver start, the season-opening co-sanctioned event for both groups.
He announced early Sunday he might be ready to do even better at Bloomsburg, coming from ninth starting position to finish fourth in his heat. That was the best charge by any driver in the preliminaries.
Then he drew the pole for the 25-lap feature, the first ever for full-size, winged sprints on the Bloomsburg track, built earlier this year inside the horse track that was the site of many classic open-wheel races beginning nearly a century ago and ending in the 1980s.
In a race with only one caution flag, Bealer handled both open track and heavy traffic nearly flawlessly, although New Yorker Justin Mills gave it his all in the race's only restart, with four laps to go.
Mills came home second, with rookie Tyler Snook third, Will Brunson fourth and North Carolinian George Loux fifth. Loux was racing "back home" in Pennsylvania while the NASCAR traveling circuits have two weeks off; he works in that racing world.
Next weekend, PASS takes a rare weekend off. Racing will resume on Saturday, Aug. 7, at Port Royal Speedway.
Feature results – 1. Zack Bealer; 2. Justin Mills; 3. Tyler Snook; 4. Will Brunson; 5. George Loux; 6. Eddie Wagner; 7. Tim Iulg; 8. Aiden Borden; 9. Kenny Heffner; 10. Jared Zionkowski; 11. Ken Duke; 12. Matthew Swift; 13. Scott Frack; 14. Larry McVay; 15. Mike Melair; 16. John Walp; 17. Matt Tebbs; 18. Tyler Cochran; 19. Dustin Young; 20. Josh Beamer; 21. Dale Schweikert; 22. Paul Moyer; 23. Kristina Pratt; 24. Jake Waters.