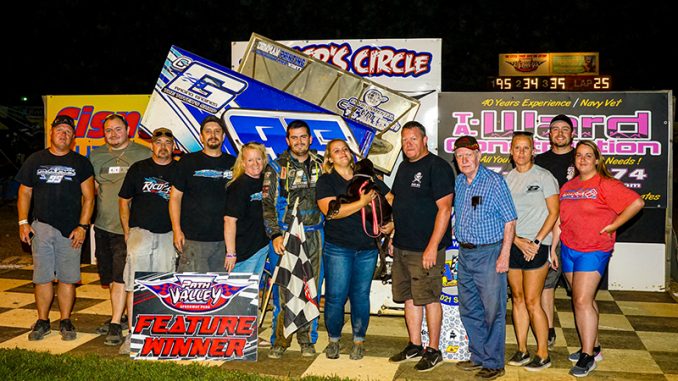 By Frank Buhrman
SPRING RUN, Pa. (July 24) – Garrett Bard put disappointment behind him and scored a convincing victory Saturday in the Pennsylvania Sprint Series 25-lap feature event at Path Valley Speedway.
Bard had endured a rare failure-to-qualify Friday at Big Diamond Speedway, but racing life was clearly back in balance 24 hours later. After a sixth-place start in his heat, Bard finished second, then drew the pole position for the feature and led all the way, taking the IMCA RaceSaver Sprint Car win by 1.391 seconds over Austin Reed.
The win was Bard's fifth of 2021 and 20th in a PASS career that now spans just over two years. It was his third career win at Path Valley.
In victory lane, Bard said he welcomed the race's two late cautions, because the handle on his car was going away and the restarts took him out of heavy traffic.
Reed, who had started eighth, hung with Bard on the final restarts but couldn't get around and fell just short of his first win of the season.
Scott Frack, who won his heat and started fourth, ran in the top five all race and finished third, one of several competitors scoring PASS career-best finishes. Rookie Zach Rhodes was another of that group with his fourth.
Ken Duke, recovering from a nasty green-flag accident Friday at Big Diamond, charged from 14th starting to finish fifth.
Feature results – 1. Garrett Bard; 2. Austin Reed; 3. 3Scott Frack; 4. Zach Rhodes; 5. Ken Duke; 6. Stevie Kenawell; 7. Donnie Hendershot; 8. Alyssa Rowe; 9. Kenny Heffner; 10. John Walp; 11. Branstin Shue; 12. Justin Mills; 13. Fred Arnold; 14. Austin Greenland; 15. Mikell McGee; 16. Ryan Lynn; 17. John Fiore; 18. Cody Hackenberry; 19. Kruz Kepner; 20. Andrew Boyer; 21. Mike Alleman; 22. Eric Hendershot.