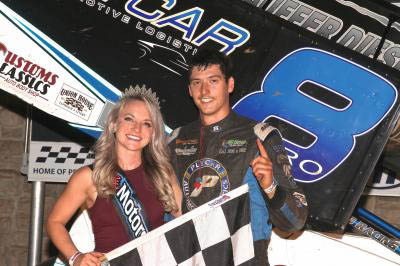 By Frank Buhrman
SELINSGROVE, Pa. (June 28) – Nick Sweigart became a multiple 2020 Pennsylvania Sprint Series winner Sunday when he captured the 20-lap feature run as part of Speedweek at Selinsgrove Speedway.
Sweigart, who started fourth and took the lead from Ron Aurand on lap five, was never seriously challenged after that, working lapped traffic perfectly. The IMCA RaceSaver Sprint Car win was his second of the year and his seventh overall with PASS.
"I didn't really know where I needed to be, top or bottom," Sweigart said in victory lane of the lapped traffic situation, "so I was kind of floating back and forth, and I figured I'd run the top until I felt pressure, and I really didn't feel any pressure. I guess it was more mental pressure at that point, so I just decided to go to the bottom and commit there."
"I didn't feel like I wanted to push too hard the last couple of laps with the lapped traffic, I didn't want to get myself into an incident there," he continued, "so I just kind of eased up a little bit, and we're here. It all played out."
While Sweigart was all but cruising out front, a torrid battle was going on for second place, where Kassidy Kreitz held off Ken Duke to notch a career-best series finish.
Landon Price was fourth, and Aurand took his first PASS top five in nearly two years with fifth.
This Saturday night, PASS makes its first appearance of 2020 at Lincoln Speedway in program that will begin at 7:30 p.m.
Feature results – 1. Nick Sweigart; 2. Kassidy Kreitz; 3. Ken Duke; 4. Landon Price; 5. Ron Aurand; 6. Dominic Melair; 7. Erin Statler; 8. Devin Adams; 9. Derek Hauck; 10. Johnny Scarborough; 11. Kyle Keen; 12. Jared Zionkowski; 13. Garrett Bard; 14. Jake Frye; 15. Doug Dodson; 16. Dave Graber; 17. John Walp; 18. Reed Thompson; 19. Mike Alleman; 20. Dave Wickham; 21. Andrew Boyer; 22. Dylan Smith; 23. Kenny Heffner; 24. Kruz Kepner; 25. Will Brunson.