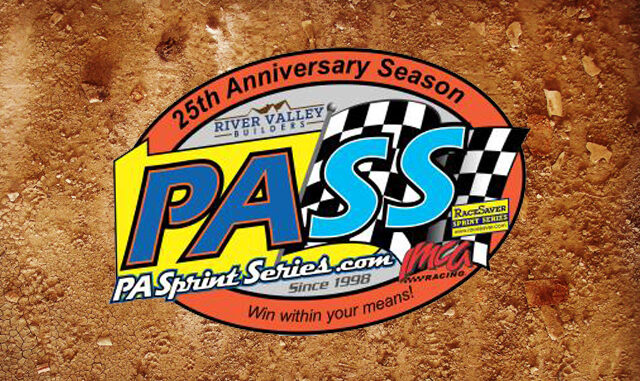 By Frank Buhrman
SELINSGROVE, Pa. (March 24, 2023) – In less than two weeks, the roar of IMCA Sprint Car RaceSaver engines will light up a Pennsylvania race track – Selinsgrove Speedway, to be precise – for the first time in 162 days, since the last motor shut off following the Keystone RaceSaver Challenge in October.
It's time to roll again, and it's extra-special in 2023 because this is the 25th anniversary season for the nation's premier grassroots Sprint Car series in the Keystone State.
River Valley Builders PA Sprint Series IMCA RaceSaver sprinters will join the limited late models and roadrunner stocks on the big Selinsgrove half-mile on Saturday, April 1, to kick off a 35-race 2023 series that will take the tour to nine different race tracks. Selinsgrove leads the parade with 11 planned stops and Port Royal Speedway follows closely behind with 10 dates.
Path Valley Speedway, which ran its first PASS event in 2000, has five races scheduled for this year. Other tracks set to run are Williams Grove Speedway, Bloomsburg Fair Raceway and Big Diamond Speedway (two races each), and Lincoln Speedway, Hagerstown Speedway and Bedford Fairgrounds Speedway (one race each).
The big question for 2023 is who will run for the series championship. Garrett Bard, who took the title in 2020, 2021 and 2022, has entered into a partnership to race 410 sprints this year and Ken Duke, the 2016 and 2019 champion, is cutting back his schedule to help his son race micro sprints and possibly full-sized sprinters in the future.
None of the other past champions since championship points began being awarded in 2015 is still active in the series.
Indications are that about 20 of the top 25 drivers in 2022 points will return to the series this year, along with a good number of those who raced less often and finished lower in points. Overall, more than 100 drivers raced at least once with PASS last season.
Additionally, a sizeable number of new competitors have indicated that they will be racing with the series this year.
This is River Valley Builders' second season as PASS title sponsor. The Selinsgrove-based business is a regional leader in custom manufactured homes.
Much news about the 2023 campaign has yet to be revealed as PASS has big plans for their 25th anniversary season along with the Laurel Highlands Sprint Series, which shares origins with PASS.