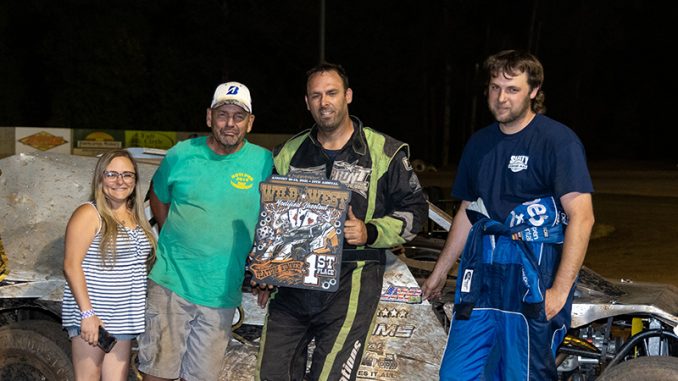 By Ben Deatherage
COTTAGE GROVE, Ore. (Aug. 10) – The quarter-mile clay oval at Cottage Grove Speedway continued to be good to Jesse Williamson Tuesday night.
Williamson sped to his second $1,000 win in five Wild West IMCA Modified Shootout starts. The four-time series champion now owns 14 career tour victories, with five coming a CGS.
Jake Mayden was the early leader in the 40-lap main event and held onto the position until being overtaken on lap nine.
Williamson prevailed despite multiple yellow flags. Collen Winebarger ended the race second with third going to Eston Whisler. Veteran Paul Rea was scored fourth with fifth going to Mayden.
The Karl Kustoms Northern SportMod main had several stoppages but one thing remained the same and that was that Ryan Peery was in fine and dominant form.
The California teenager took possession of the lead on the opening start. Peery successfully navigated the track to score his third Wild West win of the week and 11th feature on the year.
Ray Bloom and Matt Sanders were second and third, respectively. Daniel Ray hit the line fourth while fifth was Kevin Williamson.
Both divisions are in action when the Wild West Modified Shootout heads to Sunset Speedway Park on Aug. 12. The Thursday night event will be broadcast by IMCA.TV.
Feature Results
Modifieds – 1. Jesse Williamson; 2. Collen Winebarger; 3. Eston Whisler; 4. Paul Rea; 5. Jake Mayden; 6. Paul Culp; 7. Curtis Towns; 8. Jeffrey Hudson; 9. Jared Domingos; 10. Ian Whisler; 11. Chance Hyser; 12. Tim Maltabarger; 13. Devon Reed; 14. Mark Carrell; 15. Danny Lauer; 16. Dustin Asher; 17. Brenton Schnitzer; 18. Cody Jones; 19. Robert Jenner; 20. Aaron Elwess; 21. Ricky Ashley; 22. Tom O'Gorman.
Northern SportMods – 1. Ryan Peery; 2. Ray Bloom; 3. Matt Sanders; 4. Daniel Ray; 5. Kevin Williamson; 6. Chris Frisbie; 7. Trevor Points; 8. Keith Foux; 9. Jordan Henry; 10. Chuck Carson; 11. K.C. Scott; 12. Skyler Winebarger; 13. Aaron Bloom; 14. Jake DeWalt; 15. Dalton Bloom; 16. Dustin Comer; 17. Tanner Krohling; 18. Kevin Ropchan.