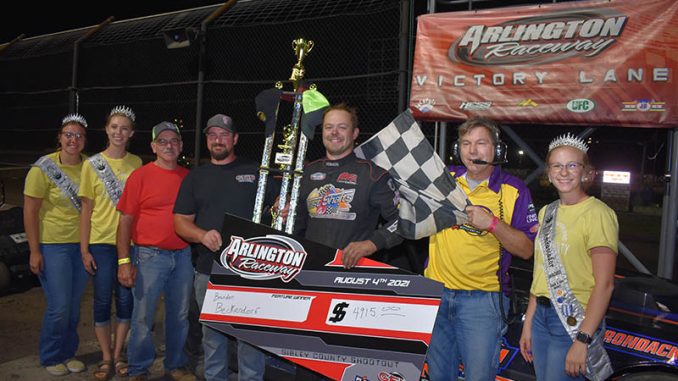 ARLINGTON, Minn. (Aug. 4) – Brandon Beckendorf picked up the win in his first time ever competing in the IMCA Sunoco Stock Car feature during the Sibley County Fair Shootout special Wednesday night.
Beckendorf earned $2,500 for his checkered flag finish plus $2,415 for leading 15 laps, making for a $4,915 payday.
Thirty-seven Stock Cars signed in for the Arlington Raceway midweek special and Dean Cornelius and Chanse Hollatz drew front row starts. Both had their work cut out as there was a stout field cars behind them.
Hollatz and Cornelius swapped the lead over the first four laps before Cornelius settled into the front spot.
Beckendorf appeared on Cornelius' tail and the two raced side-by-side until lap 11, when Beckendorf took charge.
He had a commanding lead over Cornelius, Zane DeVilbiss and Tim Pessek in fourth with five laps later. Cornelius had troubles on lap 23 and pulled into the pit area – and still banked $1,288 in lap money – before Pessek and Larson traded third.
In the end, Beckendorf stayed out front for the win while Devilbiss took second but was disqualified after coming up light on the post-race scales. Larson and Pessek completed the top three.
The $100 hard charger award went to Matt Looft. Matt Schauer, Justin Luinenburg and Ryan Bjerkeset all won $500 random draw positions sponsored by B & B, Arlington NAPA and Arlington Sunoco Fuel.
Matt Looft was the $1,000 Karl Kustoms Northern SportMod winner and Matt Olson topped the $800 to win feature for IMCA Sunoco Hobby Stocks.
Stock Car feature results – 1. Brandon Beckendorf; 2. Jeff Larson; 3. Tim Pessek; 4. Chanse Hollatz; 5. Dan Mackenthun; 6. Matt Speckman; 7. Justin Luinenburg; 8. Shaun Bruns; 9. Aaron Johnson; 10. Matt Schauer; 11. Matt Looft; 12. Chad Schroeder; 13. Josh Larsen; 14. Jake Bruns; 15. Charlie Rustman; 16. Roger Jenniges; 17. Taylor Willms; 18. Dean Cornelius; 19. Ryan Bjerkeset; 20. Randy Brands; 21. Patrick Schauer; 22. Daniel Eckblad; 23. Curt Lund.