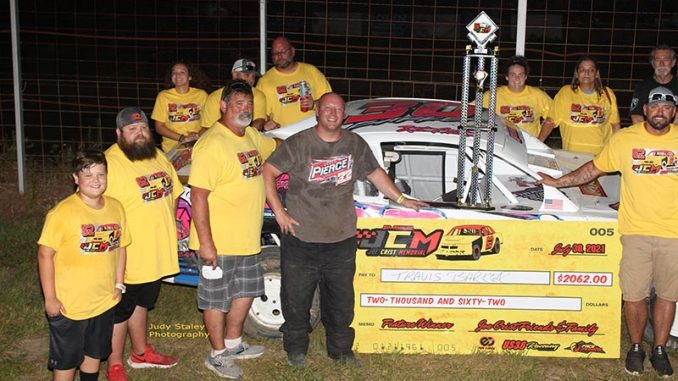 By Rick Staley 
OSBORN, Mo. (July 30) – After a heartwarming opening ceremony set the stage for US 36 Raceway's Joe Crist Memorial, Travis Barker went home with the IMCA Sunoco Stock Car win and $2,062.
Barker, already eligible to qualify for the B & B Chassis All-Star Invitational, and Conner Masoner started on the front row and set the pace for the star-studded event.
Barker got the lead and saw Shadren Turner charge by and slide past, but not for long as Barker held the high line to perfection and drove back by Turner.
As Barker paced the field, Chad Clancy worked his way toward the front to challenge for the lead, pressuring Barker to make a bobble.
Racing was fierce as throughout the field as Kasey Ayers challenged the frontrunners. Doug Keller was in contention all night as he, J.J. Baumli and Ayers battled.
Masoner slowly faded as hard charger Blake Peeler, who had won the 'B' feature to advance, complted his advance from the 22nd starting position to challenge in the closing laps.
Barker could not be pressured into a mistake, nor would he bobble and hold the perfect line claiming the double checkers and big paycheck.
Clancy tried high, low and every lane possible but he was forced to settle for second with Turner a very close third. Former race winners Peeler and Baumli completed the top five.
Feature results – 1. Travis Barker; 2. Chad Clancy; 3. Shadren Turner; 4. Blake Peeler; 5. J.J. Baumli; 6. Doug Keller; 7. Scott Brown; 8. Brian Labonte; 9. Brad Labonte; 10. Brad Whitney; 11. Mathew West; 12. Conner Masoner; 13. Nate Barnes; 14. Aaron Sauter; 15. Jim Masoner Jr. 16. Kasey Ayers; 17. Brandon Williams; 18. Jason Estes; 19. Anthony Robertson; 20. Mich Ross; 21. Scott Davis; 22. Randy Smith Jr. 23. Carson Masoner; 24. Jason Purvis.