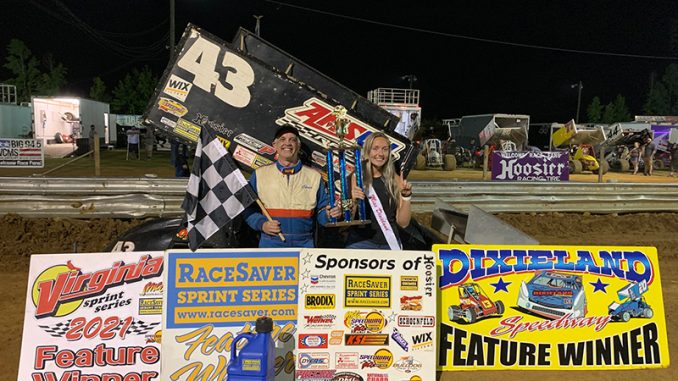 By Jim Haines
ELIZABETH CITY, N.C. (July 23) – It's been a few years of top finishes but no wins since 2017 but that all changed as it was back in the Virginia Sprint Series winner's circle for Chris Ware at Dixieland Speedway.
Ware shot back to take the win in the final Fast Friday event of the year for the IMCA RaceSaver Sprint Car series at Elizabeth City.
He and Matt Mullins paced the field to green with Mullins out first up high and Ware right behind with Daren Bolac in third. Ware kept on the pressure, Mullins bobbled off turn two and Ware shot to the front, bringing Jerald Harris with him on the bottom.
Ware was smooth out front as Harris chased with Billy Hubbard now third and Mike Leraas fourth. Hubbard slipped and spun in turn two, resetting the field and giving them a chance at Ware but off he went again with Harris still second and Leraas third.
The leader started getting into the back of the field as Harris closed in and with two to go Harris was there running the low line as Ware ran the middle to high. Harris was really launching off the bottom of turn four and pulled up to Ware's inside with the white flag waving but off two Ware pulled away.
With the checkered flag in the air, Harris was coming and got to the inside again off turn four but Ware flashed under the waving checkered flag holding off Harris by three feet for the win.
The Virginia Sprint Series takes off a week before heading back to Natural Bridge Speedway on Saturday, Aug. 7.