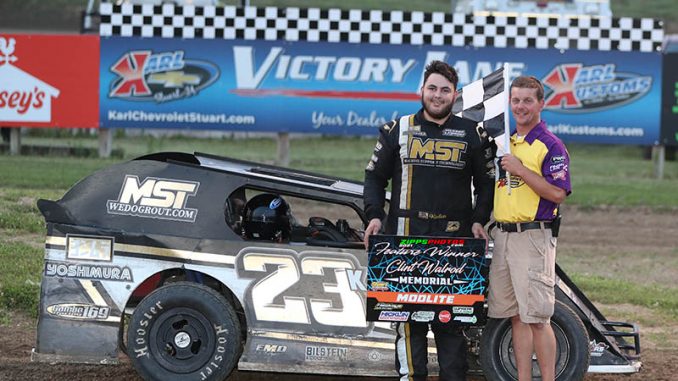 By Josh Reynolds
STUART, Iowa (July 21) – One hundred and twenty-nine race cars came to the Clint Walrod Memorial at Stuart Speedway. Feature winners for the night were Kaden Cochrun, Lucas Daniels, Izac Mallicoat, Jeremy Gettler, Dylan Nelson, Tim Ward and Braxton Wallace.
IMCA STARS Mod Lites were first up with Mike Zemo Jr. and Nathan Wolfe on the front row. Kaden Cochrun shot into the lead on lap one and through a couple of cautions it was all the 23K as he took the feature win. Josh May made it interesting but came up second with Zemo third, Dillon Raffurty fourth and Jon Padilla fifth.
Karl Kustoms Northern SportMods came out with Shane Paris and Izac Mallicoat leading the field to green. Mallicoat powered into the lead until the caution flew on lap six. Brayton Carter used the restart to move into second but that was as close as he'd come as Mallicoat went on to the feature win. Carter finished second with Jake Sachau third, Paris fourth and Jerod Weston fifth.
Jeremy Gettler and Austin Kaplan started out front for the IMCA Sunoco Stock Cars next with Gettler taking command early. Todd VanEaton made it to second just before halfway, but the only thing slowing Gettler down was a caution with four laps to go.
Chanse Hollatz rocketed into second just a lap before another caution came out with two to go. Hollatz and Buck Schafroth took turns throwing sliders over the last two laps as Gettler drove off to the win and B & B Chassis All-Star qualifying eligibility. Schafroth finished second with Hollatz third, Brandon Pruitt fourth and VanEaton fifth.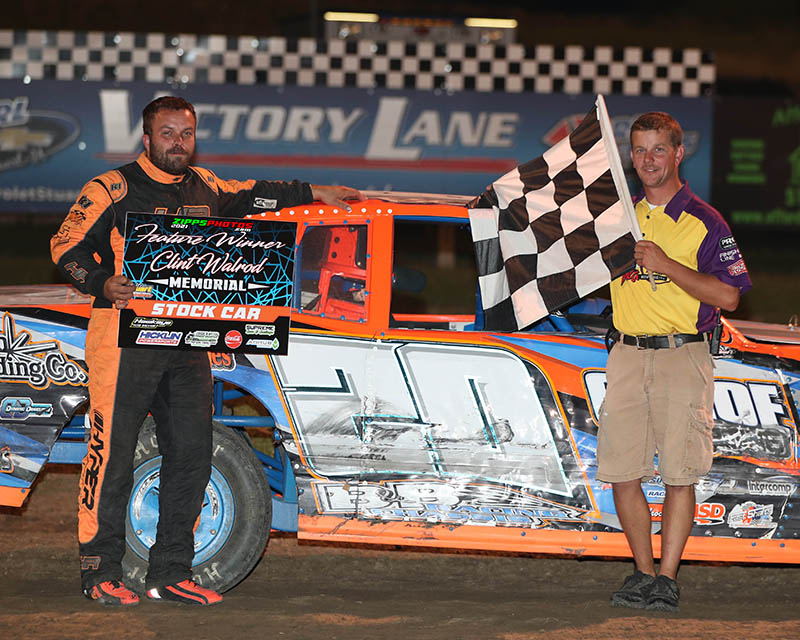 Jeremy Gettler's $1,500 IMCA Sunoco Stock Car feature win at Wednesday's Clint Walrod Memorial made him eligible to qualify for the B & B Chassis All-Star Invitational. (Photo by Jim Zimmerline)
IMCA Sunoco Hobby Stocks were up next with Brandon Cox and Tanner Dixon on the front row. Cox used the bottom side of the track to lead through lap 10 but it was Dylan Nelson charging into the lead on lap 13. Cox gave it all he had but it wouldn't be enough as Nelson went on to the win. Cox finished second with Luke Ramsey third, Eric Stanton fourth and Tom Killen Jr fifth.
Chase Rudolf and Tim Ward were on the front row for the IMCA Modifieds with Ward leading early. Todd Shute and Rudolf had quite the battle for second with Rudolf prevailing each lap as Ward continued to lead. A couple of cautions slowed the field in the middle of the race but Ward, already Fast Shafts All-Star qualifying eligible, was up to the task as he went on to the win. Cayden Carter won the battle for second over Todd Shute with Rudolf fourth and Jesse Dennis fifth.
Last up for the night's races were the Mach-1 Sport Compacts with Braxton Wallace and Kolby Sabin leading the field to the green flag. Wallace led from flag to flag to pick up the win. Sabin finished second with Curtis Masterson third, John Gill fourth and Craig Furstenau fifth.