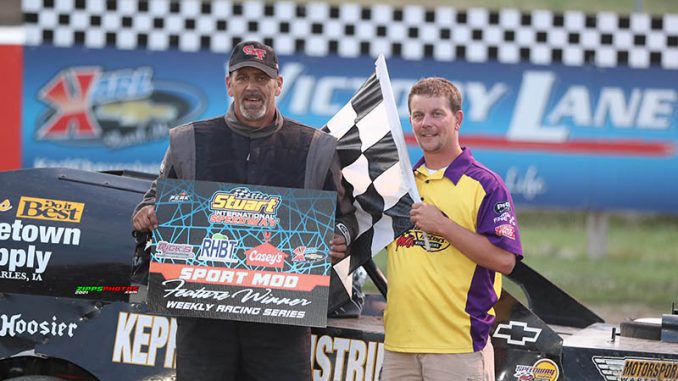 By Josh Reynolds
STUART, Iowa (June 23) – Bryan Morris made his way to victory lane following his first Karl Kustoms Northern SportMod win Wednesday at Stuart Speedway.
The Northern SportMods were first up with Blair Simmons and Morris on the front row. Morris took charge early with Dusty Masolini and Cam Reimers in tow. A caution with nine laps down bunched the field but Morris was too strong as he went on to the win, his first ever in the division.
Second was Masolini, Brayton Carter third, Reimers fourth and Colton Nelson fifth.
Next up were the IMCA Sunoco Stock Cars with Zac Johnson and Miciah Hidlebaugh leading the field to the green flag. Brock Badger shot into the lead early with Hidlebaugh and Brandon Pruitt battling hard for second.
Pruitt took second just before a yellow came out on lap nine and Badger continued in the lead as Damon Murty charged into second with two laps to go. Murty made it to Badger's bumper but that was as far as he got as Badger went on to the win and the $500 bounty that came with it. Murty finished second with Dallon Murty third, Hidlebaugh fourth and Buck Schafroth fifth.
Paul Nagle and Chase Rudolf brought out the IMCA Modifieds next with Nagle getting the jump. Rudolf took advantage of Nagle hopping the cushion to take over and drive off to the feature win, his second in as many weeks. Todd Shute finished second with Brian Osantowski third, Drew Janssen fourth and Scott Bash fifth.
Owen Richards and Harold Robb started out front for the Mach-1 Sport Compacts with Richards cruising to the win. Mark Smith finished second with Craig Furstenau third, Kolby Sabin fourth and Curtis Masterson fifth.
Cody Smith and Cory Sonner were out front for the IMCA STARS Mod Lites with Sonner leading early. Kaden Cochrun jumped into second on lap two and set out to the front, and after some contact with Sonner it was Cochrun assuming the point on lap three. Randy Bryan and Josh May put on a battle for second but it was all Cochrun as he went on to the win. May finished second with Sonner third, Bryan fourth and Cody Smith fifth.
Last up on the night's action were the IMCA Sunoco Hobby Stocks with David Kimmel and Rusty Bates on the front row. Bates led the first half of the race until Luke Ramsey moved by on the bottom side. Eric Stanton made it to second two laps later and the two leaders would separate themselves from the pack to settle it themselves.
Stanton made it up on Ramsey's left rear quarter panel with two to go, but Ramsey was too strong as he held on for the win. Stanton finished second with Jeremy Purdy third, Bates fourth and Brandon Cox fifth.
Next Thursday is the 22nd annual Ron Little Memorial/Midwest Madness Tour presented by Karl Chevrolet of Stuart, John's Tree Service and Ganoe Excavating.