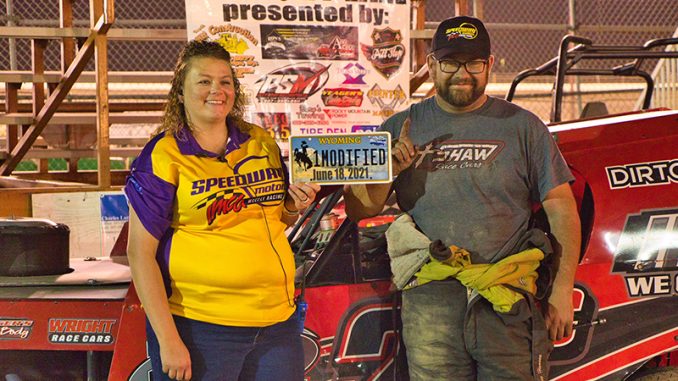 ROCK SPRINGS, Wy. (June 18-19) – Chase Hansen found the secret to a good draw and Regan Tafoya finally found his way to victory lane when the IMCA Pitt Stop Motorsports Wild West Tour made its annual visit to Sweetwater Speedway. 
Hansen simply opted to take the last pill left and won Friday's IMCA Modified feature after being rewarded with the pole start. Tafoya, whose recent Rock Springs luck has been sketchy at best, got the lead back following a restart with six laps to go in winning the Saturday feature.
Both wins paid $1,200 and both drivers were already Fast Shafts All-Star Invitational ballot candidates.
The tour ironman, Hansen's fifth career checkers came in his 120th consecutive start. He led start to finish in a feature that started with a lap one caution and ended green, white, checkered.
"I didn't know how close they were behind me at the end," said Hansen, 1.157 seconds faster than Cory Sample in the race to the checkers. "The car has been really good the last few weeks. Rock Springs is a pretty tough place to win at – to be competitive there is nice. I feel like that's the place to be if you want to race with a lot of cars and a lot of competition."
Chaz Baca started 12th and finished third. B.J. Wild and Michael Hale completed the top five.
Following the rare pole start, Hansen is giving serious thought to letting everyone else pick and taking the pill that's left more often.
"My drawing skills aren't too good. I just took the last pill in the bag," said Hansen, also the winner last June at Sweetwater. "I think I'm going to do that from now on."
Tafoya's career second tour victory came the night before Father's Day and at a track he's always found challenging to win at.
After a rash of early yellows, Tafoya led to lap eight when Casey Delp motored by on the inside.
The two ran side-by-side following a lap 14 restart before Tafoya inched ahead and then shut the door, leading the last six times around the track.
"The competition at Rock Springs is always fierce, whether it's at a weekly race or on the tour. It's been maybe four or five years since I've won a weekly race there," he said. "I was chomping at the bit to get the win. There have been so many races (at Sweetwater) that I've led but couldn't hold."
Delp ended in second, with Braxton Yeager, Hansen and Ricky Alvarado next across the stripe.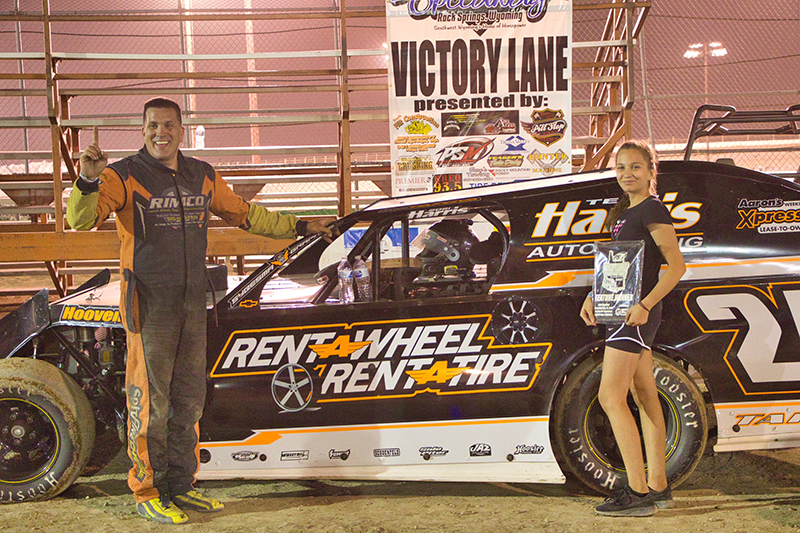 Regan Tafoya reversed his recent streak of tough luck at Rock Springs, topping his tough Pitt Stop Motor Sports Wild West Tour competition for the Saturday IMCA Modified checkers. (Photo by Tyler Mann)
"It was pretty exciting," Tafoya said. "We had the whole family there so it was a good Father's Day gift."
The win was also Tafoya's career 94th in the division.
Dillion Lawrence became a B & B Chassis All-Star candidate with his opening night IMCA Sunoco Stock Car win, ahead of Tim Dower and Chase Berkeley. Ed Henderson, already eligible to qualify for the All-Star Invitational, led Bryan Wordelman and Berkeley to the Saturday checkers.
David Pitt, Tony Dugan and Slade Pitt ran 1-2-3 in Friday's feature for Karl Kustoms Northern SportMods. Dugan rocketed from 11th starting to win on Saturday, ahead of Scott Verner and Verlon Lee.