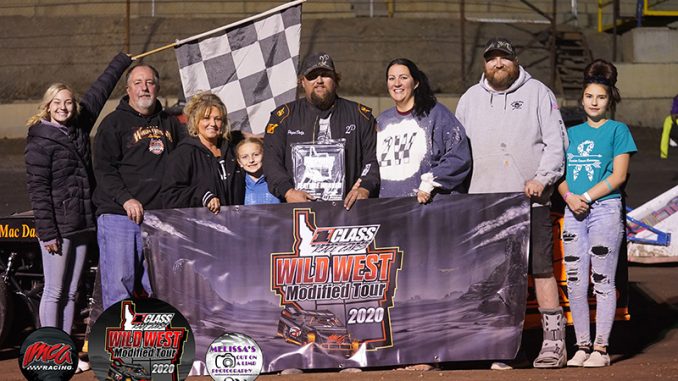 PRICE, Utah (Sept. 25-26) – Two IMCA Modified drivers saw droughts come to an end during the fi­nal 1st Class Chassis Wild West Tour twinbill of the season at Desert Thunder Raceway. 
Casey Delp led every lap of the Friday show, scoring his career second tour win and first in 16 series starts. On Saturday, Michael Hale raced to a career fourth tour checkers and first in 19 WWMT starts.
Both drivers put their names on the 2021 Fast Shafts All-Star Invitational ballot with their $1,200 victories.
"It was a huge win for me. I was pretty amped up," said Delp, the opening night winner ahead of defending tour champion Zane DeVilbiss. "Zane is the wheelman at Price. The dude is fast. To beat him is huge."
DeVilbiss and Bryan Wordelman chased Delp across the stripe. Ricky Alvarado mounted the big­gest challenge to Delp, showing his nose early, before ending in sixth.
"I just had a good car. The best thing I ever did was buy this Black Widow Rage," said Delp. "Words can't explain it. I raced for 20 years and have been in a drought the last year and a half with only three top five finishes. To be in contention every race is nice. Winning tonight was awe­some."
The third and final installment of the Castle Country Clash at Price saw Hale bounce back from a late-race mishap Friday. He started on the pole and start to finish, outrunning 12th starting Chase Hansen and the 21st starting Alvarado.
"We've had some struggles the last little bit. We spent all day Saturday fixing the car with help from friends, family and other drivers," he said. "It's a big deal to win a Wild West Tour race. There are a lot of heavy hitters so it's a big thrill to get a win."
A weekly winner at Desert Thunder earlier in the year, Hale had a two-car length advantage much of the way and ran with lapped traffic in the final circuits.
"I finally got lucky with the draw and started on the pole. I'm not usually a fan of starting on the pole because it seems like you're playing defense from lap one, but it's better than starting last," he said. "With all the trouble we have had, it was nice to be able to thank everyone who helped us with a win. It was exhilarating."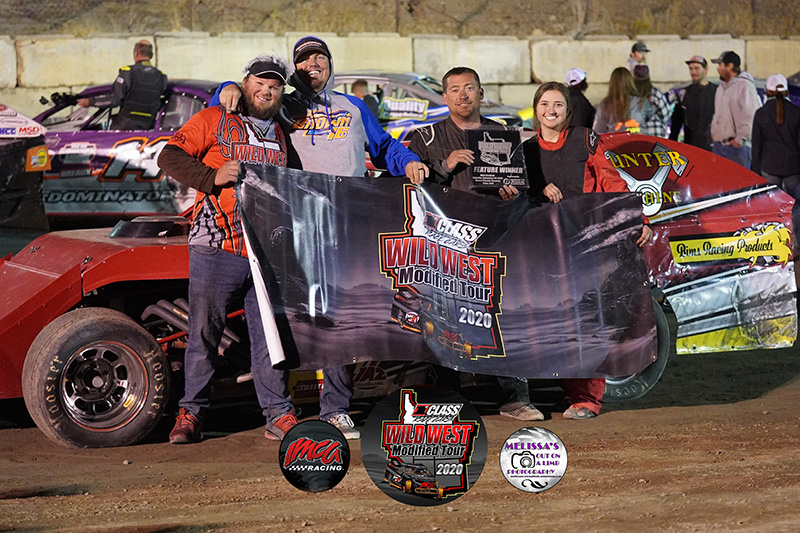 Bouncing back from a tough Friday night finish, Michael Hale led every lap of the 1st Class Chas­sis Wild West Tour finale at Price.
Cory Sample clinched his career-first Wild West Tour Modified crown with seventh- and sixth-place finishes. Chase Berkeley edged Braiden Breaux for the IMCA Sunoco Stock Car title and Michael Johnson wrapped up the Karl Northern SportMod championship with another win and a second-place showing. 
DeVilbiss swept the weekend's Stock Car features, winning ahead of Steffan Carey both nights. Beau Hutchison was third on Friday and Dillion Lawrence completed the top three on Saturday.
Johnson's Friday night Northern SportMod checkers were his fifth straight and sixth in the first seven series events of the season. J.R. Herrera and Johnson's brother Kevin were next across the stripe.
Kevin Johnson, Michael Johnson and 20th starting Brian Carey went 1-2-3 on Saturday.
Sept. 25 Feature Results
Modifieds – 1. Casey Delp; 2. Zane DeVilbiss; 3. Bryan Wordelman; 4. Braxton Yeager; 5. Chris Delp; 6. Ricky Alvarado; 7. Cory Sample; 8. Cody Blixt; 9. Reed Payne; 10. Wyatt Howard; 11. Kevin Smith; 12. Shawn LaRocque; 13. Bert Beech; 14. Tye Cook; 15. Michael Hale; 16. Dillon Thomas; 17. Kelly Smith; 18. Joe Miller; 19. Jason Reese; 20. Tyrone Yazzie; 21. Regan Tafoya; 22. Jeff Cooper; 23. Brian Ungaro; 24. Chase Hansen. 
Stock Cars – 1. Zane DeVilbiss; 2. Steffan Carey; 3. Beau Hutchison; 4. Dillion Lawrence; 5. Ed Henderson; 6. Aaron Spangler; 7. Gene Henrie; 8. Braiden Breaux; 9. John Grandjean; 10. Chase Berkeley; 11. Shawn Parish; 12. Grayson Denney; 13. Verlon Lee; 14. Tyler Whetstone; 15. Ryan Walker; 16. Jayden Thomas; 17. Brad Ostler; 18. Nugget Shupe; 19. Tom Gallagher; 20. Levi Card; 21. Joe Bowen; 22. Jordan Hockenhull; 23. Kyle Walker; 24. Jeramy Hughes.
Northern SportMods – 1. Michael Johnson; 2. J.R. Herrera; 3. Kevin Johnson; 4. Kaylin Lopez; 5. Brian Carey; 6. Robert Gallegos; 7. David Pitt; 8. Colby Malcom; 9. Slade Pitt; 10. Ryan Dimick; 11. Tod Alonzo; 12. Rick Spangler; 13. Brandon Phillips; 14. Jason Pugh; 15. Chuck Delp; 16. Morris Duncan; 17. Christina Ratzlaff; 18. Rex Higgins; 19. Ryan Milburn; 20. Scott Hard­man; 21. Wayland Duncan; 22. Camron Spangler; 23. Matt Ruf; 24. Jeremy Birch.
Sept. 26 Feature Results
Modifieds – 1. Hale; 2. Hansen; 3. Alvarado; 4. DeVilbiss; 5. Tafoya; 6. Sample; 7. Chris Delp; 8. Ron Moser; 9. Wordelman; 10. Payne; 11. Miller; 12. Braxton Yeager; 13. Howard; 14. LaRocque; 15. Kelly Smith; 16. Beech; 17. Tony Steward; 18. Kevin Smith; 19. Mike Magee; 20. James Rowley; 21. Bryson Yeager; 22. Jim Shoemaker; 23. Mickey Stubbings; 24. Yazzie.
Stock Cars – 1. DeVilbiss; 2. Carey; 3. Lawrence; 4. Berkeley; 5. Henrie; 6. Spangler; 7. Breaux; 8. Ostler; 9. Shupe; 10. Bowen; 11. Henderson; 12. Parish; 13. Kyle Walker; 14. Thomas; 15. Grandjean; 16. Dave Obrian; 17. Lee; 18. Racely Card; 19. Whetstone; 20. Ryan Walker; 21. Den­ney; 22. Aspen Russell; 23. Hutchison; 24. Levi Card.
Northern SportMods – 1. Kevin Johnson; 2. Michael Johnson; 3. Carey; 4. Gallegos; 5. David Pitt; 6. Herrera; 7. Dimick; 8. Camron Spangler; 9. Pugh; 10. Slade Pitt; 11. Alonzo; 12. Rick Span­gler; 13. Kyle Menlove; 14. Delp; 15. Malcom; 16. Bryan Alonzo; 17. Casey Elliott; 18. Way­land Duncan; 19. Ali Cook; 20. Ruf; 21. Lopez; 22. Phillips; 23. Higgins; 24. Birch.