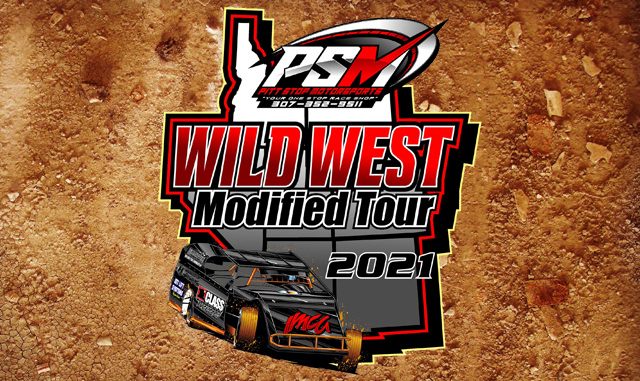 ROCK SPRINGS, Wy. – Frequent destination Sweetwater Speedway is next on the schedule for IMCA's Pitt Stop Motorsports Wild West Tour.
IMCA Modifieds race for a minimum of $1,000 to win, IMCA Sunoco Stock Cars and Karl Kustoms Northern SportMods both for at least $750 and also based on car count Friday, June 18 and Saturday, June 19.
Both Modified features are Fast Shafts All-Star Invitational ballot qualifying events and Stock Car feature winners become eligible to qualify for the B & B Chassis All-Star Invitational.
The tour has traveled to 16 different tracks in its 119-race history and to none more often than Sweetwater, which hosts its 22nd and 23rd Wild West events this weekend.
IMCA Speedway Motors Weekly Racing National, regional, KMJ Performance State and track points will be awarded both nights. Racing starts at 7 p.m. and both race programs will be broadcast by IMCA.TV.
Grandstand admission is $15 for adults, $5 for seniors ages 60 and over, teens ages 13-17 and active duty military, veterans and National Guard, and free for kids 12 and under.
National points leader Chaz Baca has won two of the first four Modified tour events this season, with Kollin Hibdon and Cody Blixt owning single victories.
Zane DeVilbiss and Chase Berkeley swept the first two Stock Car features, at Cocopah Speedway and Battle Mountain Raceway, respectively.
And Troy Householder and David Pitt were Northern SportMod winners after Michael Johnson, now a Minnesota resident, doubled up in the Arizona opener.
Top 10 Tour Point Standings
Modifieds – 1. Chaz Baca, Mesa, Ariz., 157; 2. Chase Hansen, Myton, Utah, 142; 3. Wade Taylor, Spring Creek, Nev., 137; 4. Jonathan Mawhinney, Las Vegas, Nev., 134; 5. William Miller, Yuma, Ariz., 113; 6. Mike Knox, Tacoma, Wash., 106; 7. Doug Davenport, Vernonia, Ore., 98; 8. Darrell Hughes II, Manteca, Calif., 77; 9. Bert Beech, Rock Springs, Wy., 76; 10. Cory Sample, Winnemucca, Nev., 72.
Stock Cars – 1. Chase Berkeley, Colville, Wash., 152; 2. Zack Simpson, Hoquiam, Wash., 141; 3. Ron Brewster, Spokane, Wash., 132; 4. Levi Card, West Valley, Utah, 129; 5. Marie Curtis, Winnemucca, Nev., 119; 6. Shawn Parish, Price, Utah, 112; 7. Zane DeVilbiss, Farmington, N.M., 80; 8. Scott Sluka, Casa Grande, Ariz., 77; 9. Ed Henderson, Draper, Utah, 73; 10. Leslie Gill, Odessa, Texas, 71.
Northern SportMods – 1. Chris Toth, Holtville, Calif., 140; 2. David Pitt, Rock Springs, Wy., 115; 3. Slade Pitt, Rock Springs, Wy., 112; 4. Troy Householder, Reliance, Wy., 110; 5. Michael Johnson, Austin, Minn., 80; 6. Ty Rogers, Yuma, Ariz., 78; 7. Kevin Johnson, Bakersfield, Calif., 73; 8. Taylor Kuehl, Cave Creek, Ariz., and Miles Morris, Yuma, Ariz., both 72; 10. Chris Frisbie, Fort Huachuca, Ariz., 64.