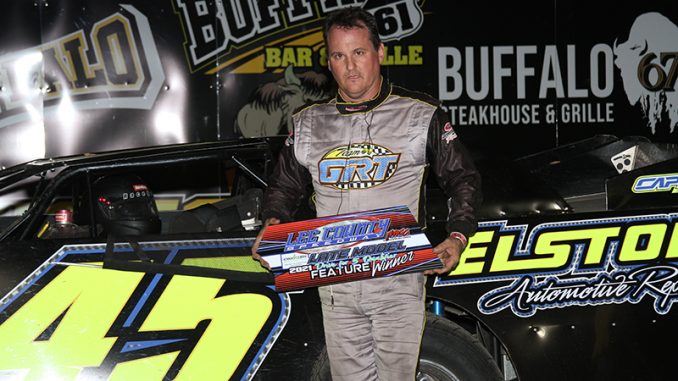 By Brian Neal 
DONNELLSON, Iowa (June 11) – Tommy Elston drove to his first local IMCA Sunoco Late Model feature win of the season Friday, in the latest installment of Lee County Speedway's Drive For 5.
Elston caught up with the back of the field late in the contest but neither Nick Marolf or Mark Burgtorf could deny him the $1,000 checkers.
Elston and Jay Johnson drew front row starts for the 25-lapper and Elston took advantage of his spot up front to lead lap one over Nick Marolf, who had started sixth and then quickly used the high side of the track to get to second. 
When Marolf got beside Elston five laps into the event, the leader moved up top to take the line away. Elston then started to pull away from Marolf and Burgtorf, who were battling for the runner up spot.
On lap 22 Elston caught the back of the field, which allowed Marolf and Burgtorf to close on his back bumper.
With only a couple of laps to go, however, neither driver could mount a challenge and Elston went on to pick up his first win of the season at Lee County Speedway and $1,000. Marolf held on for second, Burgtorf was third, Johnson was fourth and Matt Strassheim completed the top five.
Cayden Carter won the make-up Drive For 5 IMCA Modified feature while Michael Long took home a $1,000, Fast Shafts All-Star Invitational ballot qualifying win of his own in the evening's scheduled Modified Drive For 5 race.
Late Model feature results – 1. Tommy Elston; 2. Nick Marolf; 3. Mark Burgtorf; 4. Jay Johnson; 5. Matt Strassheim; 6. Gary Webb; 7. Joel Callahan; 8. Sam Halstead; 9. Ron Boyse; 10. Ben Seemann; 11. Dennis Woodworth; 12. Darin Weisinger Jr.; 13. Dustin Griffin; 14. Stacy Griffis.