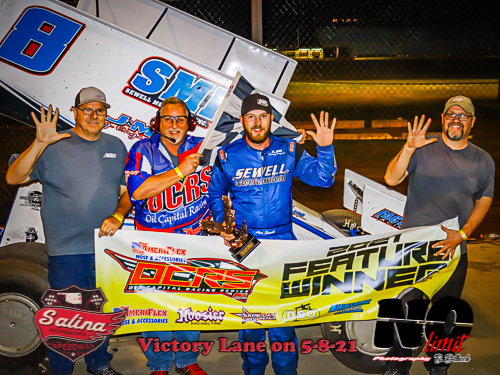 By John Rittenoure
SALINA, Okla. (May 8) – Alex Sewell took the early lead away from pole sitter Whit Gastineau and became the season's first repeat AmeriFlex/Oil Capital Racing Series IMCA RaceSaver Sprint Car feature winner Saturday at Salina Highbanks Speedway.
The 2018 series champion led most of the way around the high banked 3/8's mile oval while a battle raged behind him for second. Casey Wills, Gastineau, Ty Williams were battling before a red flag waved after 11 laps.
That changed the complexion of the race. Steven Shebester worked his way into second with Gastineau holding on to third. Jase Randolph finished fourth and Jake Martens ended up where he started with fifth place.
Feature results – 1. Alex Sewell; 2. Steven Shebester; 3. Whit Gastineau; 4. Jase Randolph; 5. Jake Martens; 6. Danny Smith; 7. Joe Bob Lee; 8. Danny Wood; 9. Casey Wills; 10. Terry Easum; 11. Fred Mattox; 12. Dean Drake Jr.; 13. Alison Slaton; 14. Frank Taft; 15. Cody Whitworth; 16. James Shoun; 17. Ty Williams; 18. Kyle Clark; 19. Josh Poe; 20. Sheldon Barksdale.