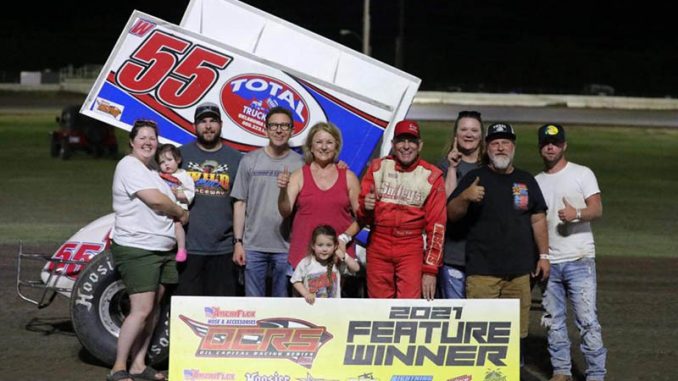 By John Rittenoure 
ARDMORE, Okla. (June 26) – With five top five and nine top 10 finishes coming into Saturday's AmeriFlex/Oil Capital Racing Series IMCA RaceSaver Sprint Car event at Southern Oklahoma Speedway, Danny Wood has been on the verge of getting his first victory.
The wait is over. Wood started on the pole and went the distance to win his first career series feature at Ardmore.
While Wood was in firm command of the top spot, there was plenty of driver movement behind him. Joe Bob Lee started 10th and worked his way through the field to second but was six seconds behind Wood at the finish. Steven Shebester moved from fifth to third while Joe Wood Jr. came from seventh to fourth. Whit Gastineau finished fifth.
The tail of the field saw lots of changes as Gary Owens came from the last row in the 20-car field to sixth at the finish. Dylan Postier started 18th and finished seventh. Blake Scott finished eighth after starting 17th.
Feature results – 1. Danny Wood; 2. Joe Bob Lee; 3. Steven Shebester; 4. Joe Wood Jr.; 5. Whit Gastineau; 6. Gary Owens; 7. Dylan Postier; 8. Blake Scott; 9. Zach Chappell; 10. Alison Slaton; 11. Sheldon Barksdale; 12. Casey Wills; 13. Chris Kelly; 14. Terry Easum; 15. Katelynn Dixon; 16. Cody Whitworth; 17. Larry Bratti; 18. Austin Saunders; 19. Jake Martens; 20. Jett Hays.