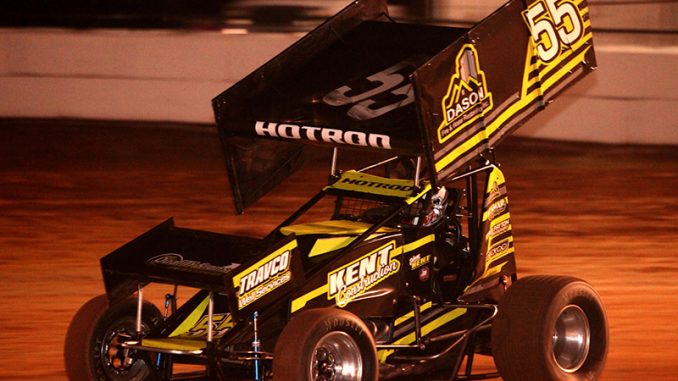 By John Rittenoure
MEEKER, Okla. (March 6) – Johnny Kent gave up the early lead then regained it just in time to win the 2021 AmeriFlex/Oil Capital Racing Series season opener for IMCA RaceSaver Sprint Cars during night one of the Red Dirt Raceway Spring Nationals.
For the first time, the series raced under the IMCA RaceSaver sanction and a total of 42 competitors turned out for the inaugural outing.
Kent picked up his third OCRS career victory, but it almost did not happen.
Starting outside front row next to Dillon Laden, Kent jumped into the lap one lead on the Red Dirt quarter-mile before the yellow flag waved.
On the restart, fourth starting Casey Wills roared past Kent for the lead. Kent kept pace with Wills throughout the 25-lapper hoping for a second chance. Opportunity presented itself in the final two laps and Kent went around Wills for the victory.
Tyler Drueke, making his first start with OCRS, charged from eighth to finish third. Ty Williams was fourth and veteran Danny Wood came from 14th to fifth.
Feature results – 1. Johnny Kent; 2. Casey Wills; 3. Tyler Drueke; 4. Ty Williams; 5. Danny Wood; 6. Zach Chappell; 7. Zach Martin; 8. Jase Randolph; 9. Andrew Deal; 10. Chris Kelly; 11. Danny Smith; 12. Terry Easum; 13. Kyle Clark; 14. Whit Gastineau; 15. Alison Slaton; 16. Dillon Laden; 17. Tanner Conn; 18. Andy Shouse; 19. Blake Scott; 20. Jesse Graham.