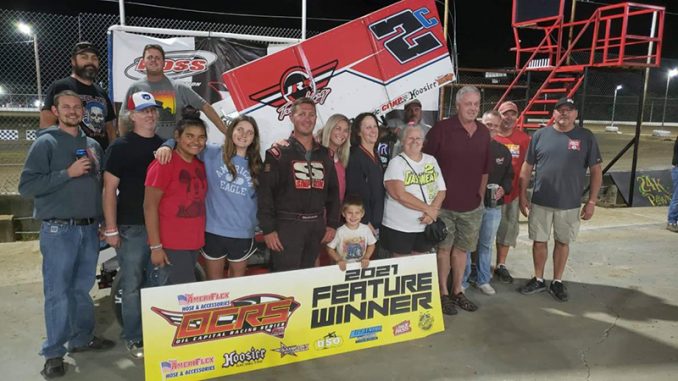 By John Rittenoure
MUSKOGEE, Okla. (Sept. 24) – Whit Gastineau always looks forward to a chance to race at Thunderbird Speedway.
After Friday night, you can see why.
Gastineau moved into an early lead and stretched it out on the way to winning his 31st AmeriFlex/Oil Capital Racing Series IMCA RaceSaver Sprint Car career feature Friday on the historic Muskogee half-mile. Gastineau, who seems to excel on the bigger ovals, also won OCRS events at Thunderbird in 2018 and 2017.
Sheldon Barksdale, who won at Thunderbird in 2019, raced into second on lap six but could not run down Gastineau and settled for second. Veteran Danny Wood worked his way from seventh to third, Jordan Knight finished fourth and Joe Bob Lee rounded out the top five.
Feature results – 1. Whit Gastineau; 2. Sheldon Barksdale; 3. Danny Wood; 4. Jordan Knight; 5. Joe Bob Lee; 6. Joe Wood Jr.; 7. Zach Chappell; 8. Tyler Knight; 9. Dean Drake Jr.; 10. Tim Kent; 11. Terry Easum; 12. Casey Wills; 13. Johnny Kent; 14. Alison Slaton; 15. Frank Taft; 16. Larry Bratti.