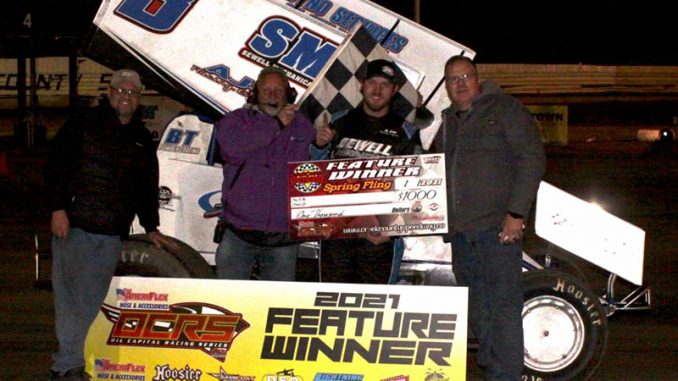 By John Rittenoure
KELLYVILLE, Okla. (March 20) – Alex Sewell became the fourth different AmeriFlex/Oil Capital Racing Series IMCA RaceSaver Sprint Car winner in four nights Saturday to close out the Spring Fling at Creek County Speedway.
The 2018 series champion charged his way through the field from the eighth place starting position to win his 13th OCRS career feature, moving him into a third place tie with Sean McClelland on the career win list.
Jase Randolph drove off the pole into the early lead while Sewell started his run through the field. In the final laps, Sewell was able to challenge Randolph and found a way to pass him for the victory.
Randolph held on to second while current AmeriFlex/OCRS points leader Casey Wills finished third. Friday winner Noah Harris managed a fourth place finish, advancing six positions, and 2014 non-wing champion Danny Smith rounded out the top five.
Feature results – 1. Alex Sewell; 2. Jase Randolph; 3. Casey Wills; 4. Noah Harris; 5. Danny Smith; 6. Alison Slaton; 7. Joe Bob Lee; 8. Terry Easum; 9. Joshua Tyre; 10. Tim Kent; 11. Frank Taft; 12. Fred Mattox; 13. Kyle Clark; 14. Chris Kelly; 15. Andrew Deal; 16. Tanner Conn; 17. Brett Wilson; 18. Johnny Kent; 19. Zach Chappell; 20. Corey McGehee.