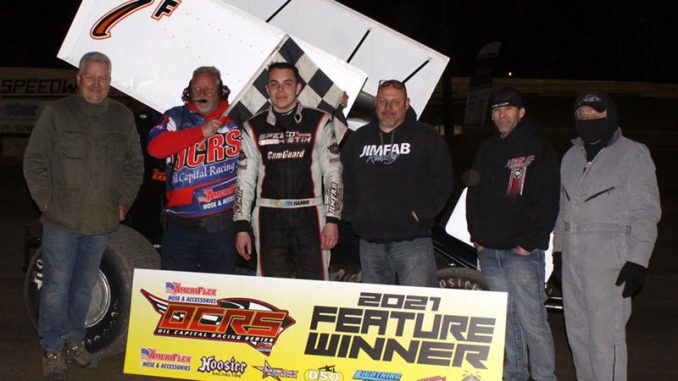 By John Rittenoure
KELLYVILLE, Okla. (March 19) – Persistence paid off in a career-first AmeriFlex/Oil Capital Racing Series IMCA RaceSaver Sprint Car victory for Noah Harris Friday at Creek County Speedway.
Harris chased down race-long leader Josh Tyre and finally passed him with three laps remaining for the lead and eventual victory.
"I struggled around the bottom. I thought that is where we had to be," Harris said of his early laps in the 25-lap race. "I ran a couple of laps down there then we went to the top."
That is when Harris started to advance. After a lap 12 restart, Harris drove around veteran Danny Wood for second and chased after Tyre. It took Harris 10 laps before he was finally able to pull even with Tyre.
"He ran a really great race," Harris said of Tyre. "Josh is a great racer and I was finally getting lucky through (turns) three and four to get a run to catch him. "My guys did a great job getting the car ready and making the changes we needed to do … it is my first OCRS win and it was good to get that off my check list."
It was a tough loss for Tyre, who finished third after Wood passing him on the final lap. Tyre led from the start running down low on the quarter mile oval but late in the race found himself racing with no brakes.
"I thought I was going to have it, but with about four or five (laps) to go I lost brakes completely," Tyre said of the races final laps. "I was pumping the brake pedal all the way around the track. My leg is shaking pretty bad right now but I had a blast. That was my first time to finish in the top five with OCRS."
Handling the Sprint Car and staying ahead of the pack in the closing laps was difficult.
"When they started going away I had to kind of lift a little early to keep it down and I think that is what gave them the edge to get off the corner on me," Tyre said. "Coming off of four I trail brake a lot and once I lost the brakes I could not do that and started spinning the tires coming off the corner."
However, Tyre was happy for Harris.
"I am happy for him to get a win," he said. "I wish I could have got it."
Feature results – 1. Noah Harris; 2. Danny Wood; 3. Joshua Tyre; 4. Zach Chappell; 5. Casey Wills; 6. Alex Sewell; 7. Andrew Deal; 8. Chris Kelly; 9. Fred Mattox; 10. Corey McGehee; 11. Tim Kent; 12. Bailey Hughes; 13. Ty Hulsey; 14. Jase Randolph; 15. Dillon Laden; 16. Frank Taft; 17. Kyler Johnson; 18. Alison Slaton; 19. Austin Shores; 20. Johnny Kent.