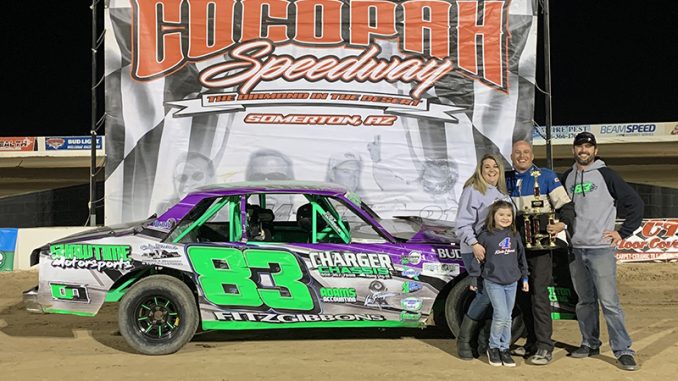 SOMERTON, Ariz. – Expectations were more than exceeded when Brian Brown made his first-ever IMCA Sunoco Hobby Stock start March 6 at Cocopah Speedway. 
With a $1,600 check on the line, Brown proved to be a fast learner in the full-bodied class, getting a break from a timely yellow and parking friend and fellow Ramona, Calif., resident Brian Fitzgibbons' car in victory lane. 
Fitzgibbons, off the track while undergoing chemotherapy, had suggested Brown try his luck in the 2020 Charger Chassis wheeled last season by former national champion Jeff Ware.
Friends and sponsors had helped Fitzgibbon's wife Amanda buy the car with the ultimate goal of getting him racing again. It was parked in their garage before Brown put the final race-ready touches on at his house and booked hotel rooms for the trip to Cocopah.
"Our fathers were best friends in high school and we live like 20 houses away," said Brown, who also races a Karl Kustoms Northern SportMod. "We'd seen the to-win (amount at Cocopah) bumping up and were sitting around and talking when Brian asked me if I wanted to drive his car."
Brown didn't need to be asked twice.
While he'd previously won a street stock feature at Cocopah, the Hobby Stock was definitely different on-track than what he was used to. Brown had the second fastest qualifying time and was runner-up in his heat before uncharacteristically drawing the pole for the main event.
"I didn't know you had to put so much wheel in it," he admitted. "We made some changes to get more room for me to steer. I started to get the hang of it and got second in my heat."
Joe Peterson went around the outside for the lead early in the feature, but that pass was negated when the caution flag came out and Brown made sure it wasn't repeated.
"I went to the high side, kept it there and they couldn't catch me," he said. "I was good on the restarts and was able to pull away a little and get the win."
He expects to get in one or possibly two more Hobby Stock starts before Cocopah closes for the summer.
"I was confident driving but I was surprised. Charger Chassis builds a great car," Brown said. "Expectations were to go out and win. Brian thought we would. I thought top five. Lo and behold, it worked out."
Ware, from Columbus, Neb., had also sold his 2016 ride to Fitzgibbons. He was as happy as anyone to see Brown park his former no. 83 in the winner's circle.
"It was pretty neat to see that car get them the win," Ware said.