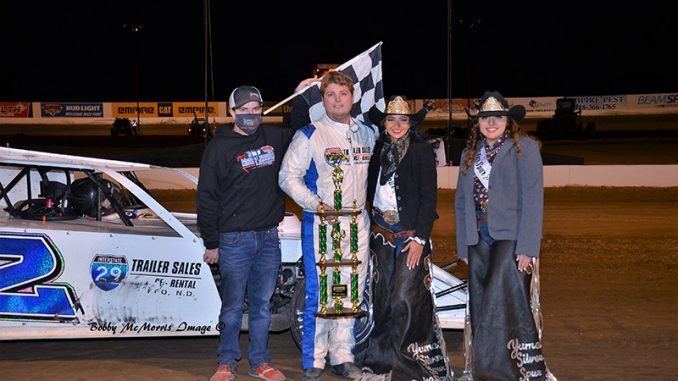 SOMERTON, Ariz. (Jan. 8) – Casey Arneson led every lap of the IMCA Modified feature while Eric Knutson led just enough of the race to capture a third straight IMCA Sunoco Hobby Stock victory Friday at Cocopah Speedway's IMCA.TV Winter Nationals.
Arneson, from North Dakota, topped a $1,000 to win, Fast Shafts All-Star Invitational ballot qualifying headliner that ended with 24 consecutive green flag laps. Ricky Alvarado moved into second on the fifth circuit but was not able to mount a serious threat to the leader.
Braxton Yeager, Wednesday winner Tanner Black and Zane DeVilbiss completed the top five while Thursday winner Ethan Dotson. Raced from 16th starting to sixth.
One hundred and sixty-four cars in the four IMCA divisions saw action for a second straight night.
Knutson had to make his way to the front of the Hobby Stock field from the 22nd starting spot, catching Brandon Bombardo coming out of the final turn for his third checkers in as many Winter Nationals outings.
Matt Olson had led much of the way before getting together with Bombardo. Brett Vanous was third and Steve Bitting Jr. raced from dead last in the field of 24 to fourth. 
First-time Winter Nationals winners were Blake Adams, like Knutson an Iowan, in the IMCA Sunoco Stock Cars and Kevin Johnson in the Karl Kustoms Northern SportMod main.
Adams used a lap nine restart to his advantage and passed Thursday winner Kyle Heckman for the front spot. Bo Partain was third and Aaron Spangler made his way from 15th starting to round out the top four.
Johnson, from California and no stranger to travel, caught Partain five laps into the Northern SportMod feature, then held on through multiple restarts at midway.
Brian Osantowski took over second with eight laps left and Shane Paris was third.
Feature Results
Modifieds – 1. Casey Arneson; 2. Ricky Alvarado; 3. Braxton Yeager; 4. Tanner Black; 5. Zane DeVilbiss; 6. Ethan Dotson; 7. Casey Skyberg; 8. Tim Ward; 9. Brandon Beckendorf; 10. Kenny Wallace; 11. Jeff Larson; 12. Dave Cain; 13. Michael Thing; 14. Jerry Flippo; 15. Travis Denning; 16. Chris Morris; 17. Kollin Hibdon; 18. Kelsie Foley; 19. Jason Wolla; 20. Chaz Baca; 21. Grey Ferrando; 22. Justen Yeager; 23. Alex Stanford; 24. Joey Price.
Stock Cars – 1. Blake Adams; 2. Kyle Heckman; 3. Bo Partain; 4. Aaron Spangler; 5. Zachary Madrid; 6. Michael Sheen; 7. Nicholas Johnson; 8. Race Fisher; 9. A.J. Dancer; 10. Rob Stenvold; 11. Tony Hill; 12. Brock Badger; 13. D.J. Werkmeister; 14. Donald Schott; 15. Andy Altenburg; 16. Scott Sluka; 17. Nugget Shupe; 18. Patrick Humphrey; 19. Hunter Cavanagh; 20. Steve Livingston; 21. Rob Gallaher; 22. Dale Jay Kibel.
Northern SportMods – 1. Kevin Johnson; 2. Brian Osantowski; 3. Shane Paris; 4. Fred Ryland; 5. Ty Rogers; 6. Ron Schreiner; 7. Logan Anderson; 8. Erik Laudenschlager; 9. Brady Bjella; 10. C. Hansen; 11. Jake Nelson; 12. Chris Toth; 13. Chase Alves; 14. Douglas Hilkemann; 15. Kyle Salo; 16. Brian Carey; 17. Josh Most; 18. Bo Partain; 19. Matt Mayo; 20. Miles Morris; 21. David Pitt; 22. Austen Becerra; 23. Kelly Henderson; 24. Brian Brown.
Hobby Stocks – 1. Eric Knutson; 2. Brandon Bombardo; 3. Brett Vanous; 4. Steve Bitting Jr.; 5. Zack Tate; 6. Brycen Daffern; 7. Mitchell Mohler Sr.; 8. Jason Duggins; 9. Matt Olson; 10. David Crimmins; 11. Joshua Cordova; 12. Chandler Dodge; 13. Scott Tenney; 14. Yancy Shupe; 15. Ron Roe; 16. Brian Johnson; 17. Jacob Rowley; 18. Shawn Rico; 19. Pete Terwilleger; 20. Frank Cordova; 21. Tim Gonska; 22. Matt Schlamann; 23. Larry Rust; 24. Andy Pearce; 25. Mark Merlen.