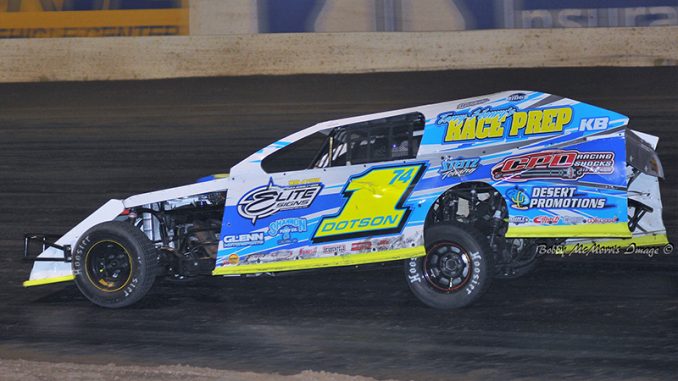 By Ben Deatherage 
SOMERTON, Ariz. (Jan. 7) – Round three of the 2022 IMCA.TV Winter Nationals presented by Yuma Insurance saw Ethan Dotson make a fast return back to victory lane at Cocopah Speedway.
The quick Californian made the most of long green flag runs in winning his second IMCA Modified feature in as many nights, leading all but the first of 25 laps en route to another $1,000 checkers.
Josh Cain paced the field on lap one before the defending Winter Nationals champion, already eligible to qualify for the Fast Shafts All-Star Invitational, drove by. Arizona native Tim Ward got second, with third going to home state hotshoe Zachary Madrid.
Car count topped 220 for the Friday show at Somerton. Rookie Braden Richards raced to his IMCA Northern SportMod career first win in just his third start in the new division. Bo Partain captured the IMCA Sunoco Stock Car checkers, Brian Brown was best in the IMCA Sunoco Hobby Stock main and Kevin Reuter repeated in the Mach-1 Sport Compact feature.
The third different Northern SportMod winner in as many nights, Richards passed Tim Bergerson for the front spot on lap 14. Nothing slowed Richards from that point as he won ahead of Ryan Peery and Joe Feyen.
"It was awesome," said Richards, who also won his heat and started fourth in the $750 to win main event. "I didn't expect to come down here and win. We wanted to come down here and learn. It felt pretty good."
Madrid, doing double duty, and Josh Most battled early in the Stock Car feature. Partain throttled past Most for the lead on lap 11.
Partain put together a great run for his first feature win of the season and career first in IMCA.TV Winter action. The $750 victory made Partain eligible to qualify for the B & B Racing Chassis All-Star Invitational. Chase Berkeley was second with third going to Most.
Quickly looking for a third straight Hobby Stock victory to start his season, Bobby Horton made an incredible pass on the top shelf to take the early lead from Chandler Dodge.
The excitement was turned up a notch on a later restart when Brown closed on Horton, then made a successful pass of his own on the 11th circuit.
Brown dedicated his car to the bottom and successfully kept Horton in check for the $500 win. Nick Posey was third at the wire.
Opening night winner Kaytee DeVries took charge at the start of the Sport Compact headliner. Billy Foultz took charge on lap seven before Reuter obtained P1 on lap nine on the back straightaway and led the rest of the way, earning another $300 for his efforts.
DeVries and Foultz chased Reuter across the line.
Feature Results
Modifieds – 1. Ethan Dotson; 2. Tim Ward; 3. Zachary Madrid; 4. Travis Denning; 5. Grey Ferrando; 6. Kyle Heckman; 7. Russell Allen; 8. Austen Becerra; 9. Tanner Black; 10. Bricen James; 11. Cody Thompson; 12. Ryan Roath; 13. Austin Kuehl; 14. Trevor Fitz; 15. Jeremy Mills; 16. Troy Morris III; 17. Braxton Yeager; 18. B.J. Wild; 19. Matt Bonine; 20. Jerry Flippo; 21. Justen Yeager; 22. Kollin Hibdon; 23. Josh Cain; 24. Tripp Gaylord; 25. Mike McKinney; 26. Justin McCreadie; 27. Paul Stone; 28. Brady Bjella.
Stock Cars – 1. Bo Partain; 2. Chase Berkeley; 3. Josh Most; 4. Chanse Hollatz; 5. Jim Horejsi; 6. Garrett Corn; 7. Zachary Madrid; 8. Shelby Williams; 9. Scott Sluka; 10. Andrew Burg; 11. Fred Ryland; 12. Austin Kaplan; 13. Tim Gonska; 14. Rick Diaz; 15. Cody Williams; 16. Damon Richards; 17. Jake Nelson; 18. Kevin Roberts; 19. Joe Schmit; 20. Larry Brigner; 21. Nicholas Johnson; 22. Bryce Mulvey; 23. Taylor Kuehl; 24. Rob Gallaher; 25. Andrew Altenburg; 26. Bubba Stafford Jr.
Northern SportMods – 1. Braden Richards; 2. Ryan Peery; 3. Joe Feyen; 4. Tim Bergerson; 5. Shane Paris; 6. Kole Nordquist; 7. Miles Morris; 8. Ty Rogers; 9. Chris Toth; 10. Fred Ryland; 11. Andrew Pearce; 12. Izac Mallicoat; 13. Chase Alves; 14. Phillip Shelby; 15. Christopher Frisbie; 16. Jacob Mallet Jr.; 17. Tate Johnson; 18. Jesse Johnson; 19. Danny Concelman; 20. Matthew Mayo; 21. David Pitt; 22. Tony Acierno; 23. David Siercks; 24. Brian Carey; 25. John Rebstock.
Hobby Stocks – 1. Brian Brown; 2. Bobby Horton; 3. Nick Posey; 4. Thomas Daffern; 5. Chandler Dodge; 6. Jason Duggins; 7. Joe Peterson; 8. Jim Robinson; 9. Brycen Daffern; 10. Brett Vanous; 11. Ben Reierson; 12. Scott Tenney; 13. Matt Olson; 14. Shawn Rico; 15. Eric Knutson; 16. Brian Johnson; 17. Matt Schlamann; 18. William Herron; 19. Mark Merlen; 20. Bobby Gallaher; 21. Andy Pearce; 22. Brandon Bombardo; 23. Joshua Cordova; 24. Zack Tate; 25. Tory Harazin.
Sport Compacts – 1. Kevin Reuter; 2. Kaytee DeVries; 3. Billy Foultz; 4. D.J. Werkmeister; 5. Jenna Wilson; 6. Katie Barthel; 7. Camron Spruell; 8. Maci Constance; 9. Ryan Brooks; 10. Benjamin Pendleton; 11. Brian Kerwin; 12. Wynona Ragland; 13. Josh Werkmeister; 14. Michael Duran; 15. David Hunt; 16. Waylon Hale; 17. Enzo Deckers; 18. Mylee Joann.