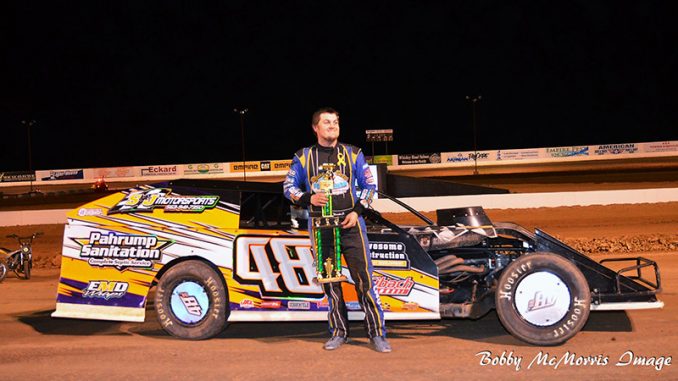 SOMERTON, Ariz. (Jan. 9) – His return to his home state put $1,000 in Ricky Thornton Jr.'s bank account Thursday night.
Thornton led every lap in winning the IMCA Modified feature on opening night of Winter Nationals at Cocopah Speedway. The victory came in the first sanctioned Modified event of the 2020 IMCA Speedway Motors Weekly Racing Season.
Piloting Kollin Hibdon's backup car, Thornton had started outside the front row. He walked away from the rest of the field following a lap 13 restart.
Runner-up was Jeff Taylor and Jake O'Neil challenged before finishing third.
"B" feature winner Tom Berry Jr. started 16th and finished fourth while Hibdon completed the top five. Already on the Fast Shafts All-Star Invitational ballot, Iowa transplant Thornton won for the 148th time in his IMCA Modified career.
Other winners in the lidlifter at Somerton were Iowan Troy Jervetz in the IMCA Sunoco Stock Cars, Shelby Frye in the Karl Kustoms Northern SportMods and defending track champion Joshua Cordova in the IMCA Sunoco Hobby Stocks.
Jerovetz led start to finish in the Stock Car 20-lapper, outrunning Steffan Carey for the checkers.
Carey finished a car length off the pace. Gene Henrie, Andy Altenburg and Tony Hill were next across the stripe.
Frye got the victory after being turned around by second-running Cody Thompson on the white flag lap in a Northern SportMod feature shortened by yellows. Tyler Inman, Chris Toth, 22nd starting Michael Johnson and Miles Morris completed the top five.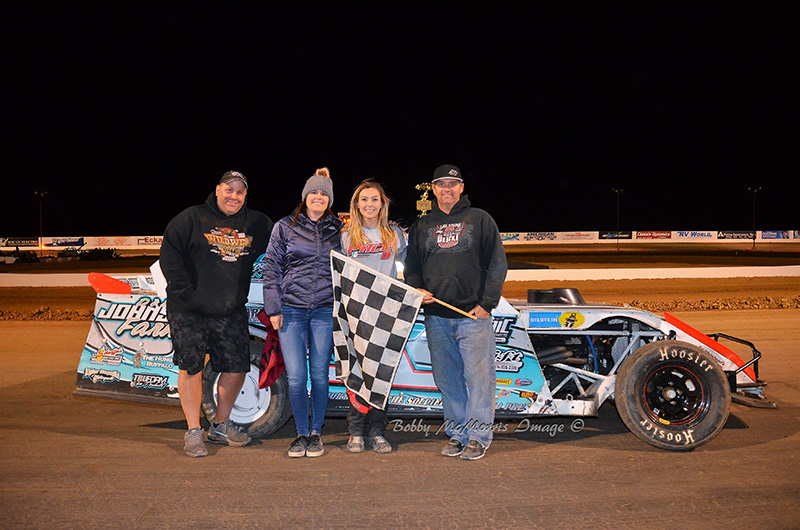 Cordova's win came in front of Tim Gonska, 10th starting Brad King, 18th starting Eric Knutson and 11th starting Jason Beshears.
Feature Results
Modifieds – 1. Ricky Thornton Jr.; 2. Jeff Taylor; 3. Jake O'Neil; 4. Tom Berry Jr.; 5. Kollin Hibdon; 6. Bobby Hogge IV; 7. Marlyn Seidler; 8. Casey Arneson; 9. R.C. Whitwell; 10. Chaz Baca; 11. Austin Kuehl; 12. Justen Yeager; 13. Mark Carrell; 14. Lance Mari; 15. Bricen James; 16. Michael Thing; 17. Jessie Hoskins; 18. Kent Rosevear; 19. Tyson Evans; 20. Bobby Horton; 21. John Parmeley; 22. Doug Rivera; 23. Terry Hurt; 24. Tim Ward; 25. Jerry Flippo.
Stock Cars – 1. Troy Jerovetz; 2. Steffan Carey; 3. Gene Henrie; 4. Andy Altenburg; 5. Tony Hill; 6. Kevin Roberts; 7. Jake Smith; 8. Nuggett Shupe; 9. Race Fisher; 10. Brendon LaBatte; 11. Chanse Hollatz; 12. Aaron Spangler; 13. Lonnie Foss.
Hobby Stocks – 1. Joshua Cordova; 2. Tim Gonska; 3. Brad King; 4. Eric Knutson; 5. Jason Beshears; 6. Nathan DeRagon; 7. Jason Penny; 8. Jason Duggins; 9. Scott Tenney; 10. Jim Robinson; 11. Kenzie Olsen; 12. Hunter Cavanagh; 13. Rick Hibbard; 14. Francisco Cordova; 15. Andy Pearce; 16. Oscar Duarte; 17. David Callis; 18. Jeffrey Callis; 19. Brian Johnson; 20. Scott Jeffrey.
Northern SportMods – 1. Shelby Frye; 2. Tyler Inman; 3. Chris Toth; 4. Michael Johnson; 5. Miles Morris; 6. Manny Baldivez; 7. Joey Klemish; 8. Brian Carey; 9. David Pitt; 10. Camron Spangler; 11. Joshua Cordova; 12. Taylor Kuehl; 13. Brandyn Johnson; 14. Jimmy Davy; 15. Slade Pitt; 16. Douglas Hilkemann; 17. Javier Navarro; 18. Jimmy Wilson; 19. Mike Wells; 20. Ty Rogers; 21. Justin Brierley; 22. Tate Johnson; 23. Rex Higgins; 24. Ron Schreiner.