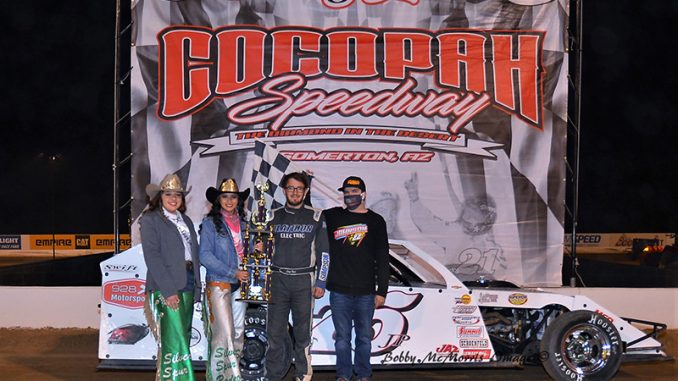 By Ben Deatherage
SOMERTON, Ariz. – The defending Shaw Race Cars Western Region champion parked in victory lane Friday, night six of the IMCA.TV Winter Nationals at Cocopah Speedway.
Chaz Baca took the lead in the opening stages of the IMCA Modified feature. Baca eventually was tracked down and passed on lap 13 by Tim Ward. Ward attempted to construct a sizable interval over Baca and the rest of the field but ran into heavy lapped traffic.
In the closing stages of the feature Ward and Baca dueled one another for the win. Baca made a decisive pass in slower traffic that gave him the advantage on the final circuit and held on for the $1,000 win in the non-stop race. It was his first of the season and marked the fourth different winner in six races at the Winter Nationals.
Baca was already of the Fast Shafts All-Star Invitational ballot. Ward was second with two-time Winter Nationals winners Tanner Black and Ethan Dotson next across the stripe. Kollin Hibdon was fifth
IMCA entries in four divisions from 15 states converged on the Somerton ⅜-mile clay oval.
For the Karl Kustoms Northern SportMods, Fred Ryland reigned supreme. Ryland took advantage of his pole starting position and built a big lead over the rest of the field.
Despite a handful of stoppages, Ryland dominated the entire race to become the sixth different winner in as many races. Bo Partin was second and Cam Reimers was third.
Another Californian, Nicholas Johnson, mastered the field in the IMCA Sunoco Stock Car main event. Blake Adams was second at the flag stand with third going to A.J. Dancer.
For the IMCA Sunoco Hobby Stocks, Minnesota traveler Matt Olson led the entire distance to return to victory lane. Home state speedsters Joshua Cordova and Steve Bitting Jr. followed.
Feature Results
Modifieds – 1. Chad Baca; 2. Tim Ward; 3. Tanner Black; 4. Ethan Dotson; 5. Kollin Hibdon; 6. Jerry Flippo; 7. Grey Ferrando; 8. Brandon Beckendorf; 9. Casey Arneson; 10. Justen Yeager; 11. Ken Schrader; 12. Braxton Yeager; 13. Dylan Thornton; 14. Austin Kiefer; 15. Kelsie Foley; 16. Kyle Heckman; 17. Kellen Chadwick; 18. Tom Smith; 19. Dalton Magers; 20. Beau Speicher; 21. Alex Stanford; 22. D.J. Shannon; 23. Joey Price; 24. Russell Allen; 25. Bricen James.
Stock Cars – 1. Nicholas Johnson; 2. Blake Adams; 3. A.J. Dancer; 4. Larry Brigner; 5. Donald Schott; 6. Brady Bjella; 7. Chanse Hollatz; 8. Race Fisher; 9. Kyle Heckman; 10. Miciah Hidlebaugh; 11. Seth Dixon; 12. Joey McCullough; 13. Joe Gallaher; 14. Mark Madrid Jr.; 15. Patrick Humphrey; 16. Jason Kniffen; 17. Hunter Cavanagh; 18. Steve Livingston; 19. Aaron Spangler; 20. Scott Sluka; 21. Andrew Burg; 22. Andy Altenburg; 23. Tony Hill; 24. Cody Johnson; 25. Chris Laff; 26. D.J. Werkmeister; 27. Bo Partain.
Northern SportMods – 1. Fred Ryland; 2. Bo Partain; 3. Cam Reimers; 4. Erik Laudenschlager; 5. Brian Osantowski; 6. Shane Paris; 7. Ty Rogers; 8. Tyler Bannister; 9. Chris Toth; 10. Andrew Peckham; 11. Nathan Rolfe; 12. Brady Bjella; 13. Jason Bannister; 14. Kevin Johnson; 15. Miles Morris; 16. Ron Schreiner; 17. Brian Carey; 18. Austen Becerra; 19. Brian Baker; 20. Josh Most; 21. Chase Alves; 22. Garrett Jernagan; 23. Tate Johnson; 24. Jason Pugh.
Hobby Stocks – 1. Matt Olson; 2. Joshua Cordova; 3. Steve Bitting Jr.; 4. Brandon Bombardo; 5. Scott Tenney; 6. Jason Duggins; 7. Tim Gonska; 8. Brycen Daffern; 9. Mitchell Hohler Sr.; 10. Joe Peterson; 11. Pete Terwilleger; 12. Chandler Dodge; 13. Andy Pearce; 14. Larry Rust; 15. Charles McDaniel; 16. Mark Merlen; 17. Jason Penny; 18. Jacob Rowley.