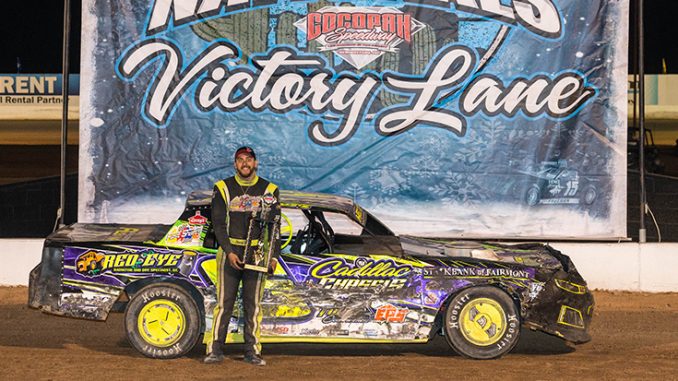 By Ben Deatherage 
SOMERTON, Ariz. (Jan. 8) – Ethan Dotson won for a third straight night while Chanse Hollatz, Shane Paris, Eric Knutson and D.J. Werkmeister all raced to their first IMCA.TV Winter Nationals victories of 2022 Saturday at Cocopah Speedway.
With 200-plus cars in the pits for a fourth straight night, Dotson continued his domination at Somerton by leading all 25 circuits in the 25-lap IMCA Modified main event.
The Bakersfield, Calif., racer kept his ride on the top side of the track and did his best to pull away. The second of two stoppages came on lap 17, just as Dotson was about to negotiate the tail end of the field.
On the ensuing restart, Kollin Hibdon tried to power his way past but Dotson kept him in check. Dotson was the trailblazer for the balance of the distance for his third straight Fast Shafts All-Star Invitational qualifying victory of the 2022 IMCA Speedway Motors Weekly Racing campaign.
Hibdon ended as the runner-up with third going to Tripp Gaylord. Tanner Black and Tim Ward were next as drivers from different states again comprised the top five.
Hollatz earned $750 and B & B Racing Chassis All-Star Invitational qualifying eligibility for his IMCA Sunoco Stock Car win. Paris became the latest $750 IMCA Northern SportMod winner and Knutson took the $500 IMCA Sunoco Stock Car checkers while Werkmeister paced the $300 to win Mach-1 Sport Compact main.
The 25-lap Stock Car main was an absolute thriller as Zach Madrid powered to the point at the drop of the green flag while Hollatz put together a sensational run on the bottom line during a long green flag run
The two swapped the lead on laps 20 and 21 before splitting lapped traffic and the end result being Hollatz back in the lead. The lone stoppage of the race came about on lap 23 and on the restart, Hollatz took off and cruised to the victory.
Madrid was second with third going to Wednesday and Thursday winner Jim Horejsi.
Paris had to deal with two back-to-back stoppages in the Northern SportMod feature but once those were out of the way he made the most of a 19-lap green flag run despite heavy traffic.
Chase Alves closed in before a lap 20 caution, then retired to the infield. Paris drove to the win ahead of Fred Ryland and Izac Mallicoat.
Brett Vanous, Jason Duggins and two-time winner Bobby Horton did time at front before the 18th starting and lightning-quick Brandon Bombardo took charge on lap seven.
Bombardo had his hands full with Josh Cordova and Knutson. Bombardo briefly tagged the outside barrier, allowing Cordova to get by. When racing resumed after back-to-back yellows, Knutson found some speed in the middle of the track and overtook Cordova on lap 16.
Cordova stormed past Knutson on a restart but got sideways on the final corner of the last lap, with Knutson getting back around him for the win. Joe Peterson got second with Horton rallying to third after an earlier incident.
Opening night winner Kaytee DeVries and Thursday-Friday winner Kevin Reuter both led early in the Sport Compact feature. Werkmeister made it a three-car tussle for the top spot and moved into the lead on the sixth circuit.
Werkmeister had no issues the rest of the way to win in front of Waylon Hale and DeVries.
Another open practice, as well as $1,000 to win Stock Car and Hobby Stock features and the $1,000 to win Gene Freeman Memorial pit crew challenge is slated for Jan. 12.
IMCA STARS Mod Lites join the IMCA Modifieds, IMCA Sunoco Stock Cars, IMCA Northern SportMods and IMCA Sunoco Hobby Stocks on Jan. 13, 14 and 15 Winter Nationals cards.
Each of those shows will be broadcast by IMCA.TV.
Feature Results
Modifieds – 1. Ethan Dotson; 2. Kollin Hibdon; 3. Tripp Gaylord; 4. Tanner Black; 5. Tim Ward; 6. Jeremy Mills; 7. Grey Ferrando; 8. Travis Denning; 9. Austin Kuehl; 10. Cody Thompson; 11. Ken Schrader; 12. Mike McKinney; 13. Braxton Yeager; 14. Zach Madrid; 15. Justen Yeager; 16. John Parmeley; 17. Keegan Nordquist; 18. Ryan McDaniel; 19. Matt Bonine; 20. Aaron Elwess; 21. Ryan Roath; 22. Danny Lauer; 23. Jonathon Mawhinney; 24. Dan Menk; 25. Trevor Fitz; 26. Austen Becerra; 27. Jerry Flippo; 28. 13-Bricen James
Stock Cars – 1. Chanse Hollatz; 2. Zach Madrid; 3. Jim Horejsi; 4. Josh Most; 5. Shelby Williams; 6. Nicholas Johnson; 7. Paul Stone; 8. Cody Williams; 9. Jason Doyle; 10. Chase Berkeley; 11. Garrett Corn; 12. Taylor Kuehl; 13. Jerry Schram; 14. Bubba Stafford Jr.; 15. Joe Schmit; 16. Rob Gallaher; 17. Fred Ryland; 18. Tyson Riggs; 19. Cody Johnson; 20. Brock Badger; 21. Rick Diaz; 22. Austin Kaplan; 23. Scott Sluka; 24. Andrew Burg; 25. Andrew Altenburg; 26. Bo Partain; 27. Steve Stone.
Northern SportMods – 1. Shane Paris; 2. Fred Ryland; 3.Izac Mallicoat; 4. Tim Bergerson; 5. Braden Richards; 6. Chris Toth; 7. Joe Feyen; 8. Josh Pate; 9. Jayson Aldridge; 10. Ryan Peery; 11. Andrew Pearce; 12. Brandyn Johnson; 13. Tate Johnson; 14. Jacob Mallet Jr.; 15. Ty Rogers; 16. Dakota Girard; 17. David Pitt; 18. Douglas Hilkemann; 19. Chase Alves; 20. Tony Acierno; 21. Phillip Shelby; 22. Miles Morris; 23. Matthew Mayo; 24. Shelby Alves; 25. Danny Concelman; 26. David Siercks; 27. Jesse Johnson.
Hobby Stocks – 1. Eric Knutson; 2. Joe Peterson; 3. Bobby Horton; 4. Zack Tate; 5. Brian Johnson; 6. Jason Duggins; 7. Thomas Daffern; 8. Joshua Cordova; 9. Jim Robinson; 10. Brycen Daffern; 11. Brett Vanous; 12. Matt Olson; 13. Scott Tenney; 14. Chandler Dodge; 15. Nick Posey; 16. William Herron; 17. Andy Pearce; 18. Shawn Rico; 19. Matt Schlamann; 20. Mark Merlen; 21. Brian Brown; 22. Darren Sage; 23. Brandon Bombardo; 24. Bobby Gallaher; 25. Ben Reierson; 26. Tory Harazin.
Sport Compacts – 1. D.J. Werkmeister; 2. Waylon Hale; 3. Kaytee Devries; 4. Maci Constance; 5. Ryan Brooks; 6. David Hunt; 7. Jenna Wilson; 8. Mylee Joann; 9. Brian Kerwin; 10. Mike Giorgianni; 11. Josh Werkmeister; 12. Wynona Ragland; 13. Katie Barthel; 14. Enzo Deckers; 15. Camron Spruell; 16. Kevin Reuter; 17. Dustin Wood; 18. 89-Benjamin Pendleton; 19. Billy Foultz; 20. Mike Duran.