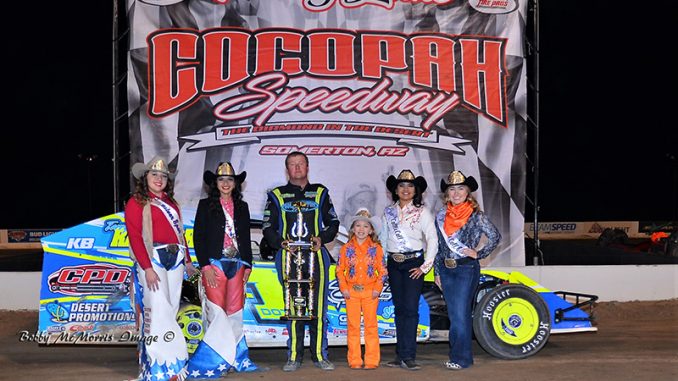 By Ben Deatherage
SOMERTON, Ariz. (Jan. 16) – Ethan Dotson dominated the seventh and concluding round of the IMCA.TV Winter Nationals Saturday at Cocopah Speedway, topping another $1,000 to win main event and wrapping up the IMCA Modified series point title.
Casey Arneson grabbed the initial race lead and held onto the position until the fourth lap when Dotson made the pass on him. Dotson soared on the high side of the racing surface and was able to construct a large lead over the rest of the competition.
Two stoppages put pressure on Dotson when it came to restarts. They turned out to be the only thing to slow him down as he dominated the rest of the distance to pick up his third Fast Shafts All-Star Invitational ballot qualifying win of 2021.
Jeff Larson ended in second with 12th starting Brandon Beckendorf third. The rest of the top five finishing order included Kollin Hibdon and Chaz Baca.
The Somerton oval wrapped up the series with another night of sensational races with more than 150 IMCA competitors in attendance.
The Karl Kustoms Northern SportMods had a thriller of a main event decided in the final moments. Josh Most set a torrid pace early before Brian Osantowski maneuvered past on the 20th circuit.
Brady Bjella slipped past both on lap 22 and beat Most to the checkers by a mere 0.194 of a second to become the seventh divisional winner is as many Winter Nationals events. Chase Alves was third while Fred Ryland was the series champion.
Kyle Heckman won for the third time in the IMCA Sunoco Stock Cars, this time ahead of Nicholas Johnson and Chanse Hollatz. Blake Adams topped points for The Class Too Tough To Tame.
The IMCA Sunoco Hobby Stocks main event went incident-free for the second night in a row. Joe Peterson took the lead on the third lap and dominated the rest of the way to win his first feature of the Winter Nation­als. Series champion Matt Olson held onto second with Scott Tenney third.
Cocopah Speedway returns to action Friday and Saturday, Jan. 29-30 for the Winter Nationals Hango­ver. The event will feature IMCA Modifieds, Karl Kustoms Northern SportMods, IMCA Sunoco Stock Cars and IMCA Sunoco Hobby Stocks. Be sure to check out the lap-to-lap coverage live on IMCA.TV. For more information check out www.cocohpahspeedway.com.
Feature Results
Modifieds – 1. Ethan Dotson; 2. Jeff Larson; 3. Brandon Beckendorf; 4. Kollin Hibdon; 5. Chaz Baca; 6. Casey Arneson; 7. Kyle Heckman; 8. Joey Price; 9. Alex Stanford; 10. Ken Schrader; 11. Austin Kiefer; 12. Russell Allen; 13. Tim Ward; 14. Michael Thing; 15. Justen Yeager; 16. Dylan Thornton; 17. Tanner Black; 18. Jerry Flippo; 19. Mitchell Mohler; 20. Matt Aukland; 21. Beau Speicher; 22. Bricen James; 23. D.J. Shannon; 24. Braxton Yeager; 25. Cody Thompson; 26. Shawn Zelenka; 27. Dalton Magers.
Stock Cars – 1. Kyle Heckman; 2. Nicholas Johnson; 3. Chanse Hollatz; 4. Aaron Spangler; 5. Blake Adams; 6. Tony Hill; 7. Scott Sluka; 8. Andy Altenburg; 9. D.J. Werkmeister; 10. Andrew Burg; 11. Donald Schott; 12. A.J. Dancer; 13. Jake Nelson; 14. Brady Bjella; 15. Larry Brigner; 16. Patrick Humphrey; 17. Miciah Hidlebaugh; 18. Hunter Cavanagh; 19. Steve Livingston; 20. Jason Kniffen; 21. Joe Gallaher; 22. Cody Johnson; 23. Mark Madrid Jr.; 24. Joey McCullough; 25. Chris Laff; 26. Race Fisher.
Northern SportMods – 1. Brady Bjella; 2. Josh Most; 3. Chase Alves; 4. Bo Partain; 5. Erik Laudenschlager; 6. Tyler Bannister; 7. Austen Becerra; 8. Ron Schreiner; 9. Fred Ryland; 10. Brian Osan­towski; 11. Chris Toth; 12. Camron Spangler; 13. Brian Baker; 14. Nathan Rolfe; 15. Jonathan Jensen; 16. David Pitt; 17. Cam Reimers; 18. Miles Morris; 19. Ty Rogers; 20. Shane Paris; 21. Slade Pitt; 22. Chase Thomas; 23. Andrew Peckham; 24. Jason Pugh.
Hobby Stocks – 1. Joe Peterson; 2. Matt Olson; 3. Steve Bitting Jr.; 4. Scott Tenney; 5. Mitchell Mohler Sr.; 6. Brandon Bombardo; 7. Pete Terwilleger; 8. Joshua Cordova; 9. Jason Duggins; 10. Larry Rust; 11. Chandler Dodge; 12. Jason Penny; 13. Mark Merlen; 14. Andy Pearce; 15. James Daffern; 16. Charles McDaniel; 17. Jacob Rowley.