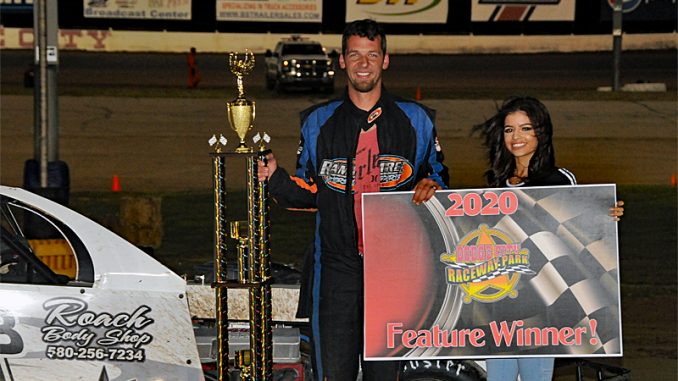 By Lonnie Wheatley
DODGE CITY, Kan. (Aug. 22) – Brandon Kenny took advantage of Luke Stallbaumer's misfor­tune, then edged Mike Roach in a thrilling drag race to the checkers to take the $1,500-winner's share in Dodge City Raceway Park's seventh annual IMCA SportMod Mayhem North vs. South Duel.
Following a pair of cautions with one lap in the books, pole starter Stallbaumer slipped away from the field under an extended green flag run as Roach held down second with Jeff Kaup in third.
After starting sixth, Kenny held steady until he began climbing through the pack after 10 laps. Gaining momentum, Kenny made his way past Kaup for third on the 17th lap and then reeled in Roach by the 23rd lap as Stallbaumer cruised out front with nearly a straightaway ad­vantage.
Misfortune struck Stallbaumer at that point as his right rear tire went low and the duo of Roach and Kenny quickly reeled him in and made quick work of the slowing machine on lap 26.
Stallbaumer's tire finally shredded a lap later, setting up a three-lap dash to the checkered with Roach leading Kenny.
Kenny went to the high side to work on Roach, finally pulling alongside as the white flag flew. The duo battled side-by-side for the final 3/8-of-a-mile with Kenny getting a strong run off the final corner to flash under the checkered flag with less than a car-length advantage.
Kaup claimed the show position with Mike Lunow racing from 10th to fourth.
Jake Bubak scored his second consecutive Lubbock Wrecker Service DCRP Sprint Car Nationals tri­umph Saturday at Dodge City.
Feature results – 1.Brandon Kenny; 2. Mike Roach; 3. Jeff Kaup; 4. Mike Lunow; 5. Brendyn Nordyke; 6. Mike Roach; 7. Troy Bynum; 8. James Lott; 9. Kyle Wiens; 10. Monty Nordyke; 11. Kamren Gruber; 12. Jimmy Brozek; 13. Ryan Kirchoff; 14. Ryan Keller; 15. Michael Pepper; 16. Luke Stallbaumer; 17. Alex Wiens; 18. Brian May; 19. Mike Appel; 20. Freddie McCoy; 21. Edwin Elliott; 22. Bart Baker.